Aero Tech Designs is located in Pittsburgh, Pennsylvania
We are cyclists helping you find comfort!
Our website: http://www.aerotechdesigns.com
Customer Service: 1.800.783.8326
Ordering: M-F, 9-5(Eastern Time)
Returns: return form
Phone: 412.262.3255
email: cyclewear@aerotechdesigns.com
Address:
Aero Tech Designs Cycling Apparel
2345 Preble Ave.
Pittsburgh, PA 15233
Rated 4.8/5 based on 6920 reviews
Video Credit: The Northside Chronicle
We sell comfort on the bike.
Aero Tech Designs is a cyclewear brand that manufactures our own products. We sell cycling apparel and bicycle gear online. We design and choose products that enhance your comfort on the bicycle. We put emphasis on technical design and try to provide the products and services that support your riding comfort. We are committed to honesty and integrity in all our business relationships. Our goal is to produce the best possible products to serve our customers who ride.

Aero Tech Designs Facts: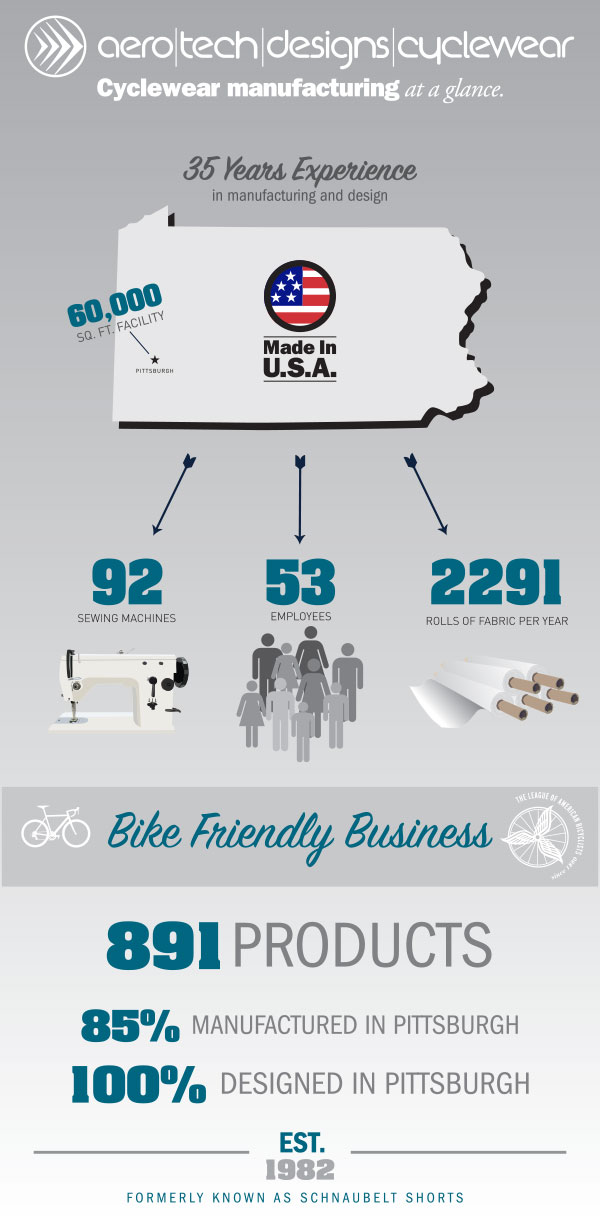 We are avid cyclists!
The best way to get out and ride is to make it easy for our staff. We are located on the Heritage River Bike Trail on the North Side of Pittsburgh. We have trail access every day, next to the Ohio River. It is energizing and exciting to work on the bicycle trail every day!
We love to ride!
We ride Stronger ...
Jordan -> is a professional bike racer on staff at Aero Tech. He shares his wisdom and supports our product development to serve our customers. He helps us evaluate the branded goods we sell by making sure they perform in a professional cycling context. He tests, reviews and helps to manage our high-end cycling apparel lines. He loves to race cyclo-cross and mountain bikes and is a big fan of all things cycling.
We ride longer...
< Chris works hard to answer your questions and get your orders shipped on time. He is a bicycle commuter, braving the crazy Pittsburgh drivers on his way to work. He also rode his bike across the country - from Pennsylvania to Washington state.
He said that bicycle touring is a beautiful extension of cycling that allows you to combine travel, exploration, and the thrill of new experiences and challenges with the joys of riding that you already enjoy. With proper planning, touring can be a refreshing new way to see the world, a more engaging way to travel from one place to another, and a great way to spend a vacation. Read Chris's blog post about what he learned while bicycle touring across the country.
We care about our customers and work hard in a competitive world.
- Norm cuts the high performance fabrics into parts for our sewing machine operators. He is dedicated to your comfort on the bicycle. We make cyclewear in the United States.
We Support "Made in USA"
Made in USA is an important part of our apparel line as we have made a commitment to production of cycling apparel in America. We hire local staff and we purchase our materials from the highest quality vendors available to us. Some of our products are imported, but most are made in U.S.A. We manufacture products in five American factories, and we try to use American made fabrics, elastics, thread and labels. We create domestic jobs and support American workers. We have the latest technology to support our customers with fast production, fast shipping and excellent customer service to follow up any type of support needed to get the most out of our products.
Our Most important Feature: Our staff...
You can benefit from our excellent products designed for your comfort on the bicycle. We manufacture top quality bicycle apparel in Pennsylvania. Our materials are very high quality and our designs are proven performers. Our designer bicycle jerseys and shorts are special. The Jerseys are detailed graphics sublimated on high-tech Coolmax fabric. Your friends will want to know where you got such beautiful apparel. Read our Testimonials and product reviews for every product.
You'll ride faster because you feel so good in our exciting cyclewear products. Buy direct from the manufacturer - save lots of money by eliminating the marketing layers that add cost to this type of product. We have been making high quality bike jersey and bicycle shorts for over twenty years! We made shorts and jerseys for several other mail order catalogs, we have made Olympic uniforms and have dressed clubs and teams all over the nation for the previous thirty years.
Look for the "Made in U.S.A." in the description for our locally manufactured products. Our founder has been designing and manufacturing high quality cycle apparel for thirty years. We have designed and manufactured bicycle wear for Descente, Bike Nashbar, Terry Precision, Head, Frank Shorter, Giant and many other cycling companies. We dressed Lance Armstrong when he was a rookie in Texas. Our company manufactured the Olympic uniforms for the American Cycling Team in 1982. Our design team are experts in their respective fields.


Our founder, Cathy Schnaubelt Rogers fell in love with cycling at age 12, where she attended a girl scout camp with her spider bike. From this humble beginning, she has ridden all over the world. Cathy has bicycle toured self contained with panniers across the United States riding from Tampa, Florida up the east coast to Cape Cod Massachusetts. She also has bicycle toured through eight European countries. The most she ever rode in one day is 140 miles! Cathy is an avid cyclist. She is a former USCF licensed bike racer, who cycled for the University of South Florida in many sanctioned races. In addition, she was a competitive triathlete.
Cathy continues to ride in bicycle tours and organized bicycle events. Ms. Rogers describes her fascination with the bicycle as a form of neurosis or disease that she can't shake off. She collects bike art and describes her home as a shrine to the bicycle. She says: "Riding my bicycle makes me happy" which is the essence of her love affair with the bicycle.


Check out Cathy's Big Ride Across America Blog she is the first woman to ride an electric bicycle across the United States. She was able to test and fine tune our cycling gear while riding 85 miles a day. The Big ride is 3300 miles in 48 days from Seattle, Washington to Washington DC. You too, can participate in the Big Ride Across America, it is held June through August, see more here:
The Big Ride across America,
Feel the Joy...Ride a Bike!
Mission Statement Aero Tech Designs will innovate, design, and market, high quality cyclewear products that meet and exceed the needs of our customers. Our products will enhance performance with emphasis on technical design. We are committed to honesty and integrity in all our business relationships.
Our goal is to provide the best possible products; we will achieve this through our constant contact with our customers as they express their needs and wants. As our business grows, we will expand our product lines into other synergistic items. We will price our products fairly while maintaining a commitment to shareholder value.
Our Work to support development of Bicycle Culture: We sponsor our local volunteer bicycle organizations. We are supporting the Ohio River Trail Council to bring a bike trail through downtown Coraopolis that will connect the city of Pittsburgh to the Ohio River area. Another big sponsorship that we support is the yearly Pittsburgh Cycling Expo which is held in the city each Spring. The Pittsburgh Cycling expo is a benefit for the Montour Trail to create visibility and membership for the trail maintenance and infrastructure. We invite all the local trail organizations and local merchants and present about 70 vendors to our local bicycle culture. This event also creates a forum for local trail organizations to promote their trails to avid cyclists and hikers. This helps stimulate trail towns who build hospitality businesses around the cycle tourism.
Aero Tech also sponsors and serves the Pittsburgh area's primary bicycle advocacy organization - Bike Pittsburgh. This organization has created a master plan or vision to build out a safe infrastructure within the city to keep our cyclists safe on designated roads with greenways and sharrows. Bike Pittsburgh is in the process of implementing "Bike Share" which is catching on big time in many urban cities across the United States. Pittsburgh's bike share will be 50 stations and the bikes will be yellow. This is made possible by the hard work of many volunteers and the financial support of local foundations and a lot of active political planning. This makes our local community more bicycle friendly and a more progressive town. We may not be as cool as Portland or Madison, but we are working together to advance the mission of building safe bike-ways.
Ride your mountain bike on the Hollow Oak Land Trust's new single track trail. The trust is a local land conservatory organization that seeks to protect our watershed and reptile habitat. They just opened an exciting single track - mountain bike trail down the road from our shop. We are thrilled to have so much local activity and support from avid and hard working volunteers.
We continue to support our local bicycle advocacy organizations and will do our part in building bicycle culture for future generations to enjoy. See you on the road....
Need Custom Cycling Kits or Team Jerseys?
Pedal Across Wisconsin Participants tested our high visibility 3M reflective jerseys while riding 70 miles a day through the country roads. The week long tour had a few hills with endless sky that surround lush, green landscape. Wisconsin has lots of lakes and water to make the area rich with vitality and growth. The cows and goats thrive in the expansive pastures. It is true, the cows are happy in Wisconsin.
We have a fantastic Custom Club and Team Cycling Apparel product offerings for all sizes including big and tall. Full custom is a way to make your team standout from the others and it is only limited by your imagination. Using cutting edge sublimation technology, we are able to create designs that use multiple colors, logos, design elements, text, and many more. Aero Tech Designs Custom is paving the way with quality kits and great customer service. Full custom is a way to make your team standout from the others and it is only limited by your imagination. Using cutting edge sublimation technology, we are able to create designs that use multiple colors, logos, design elements, text, and many more. Aero Tech Designs Custom is paving the way with quality kits and great customer service
We Support the following Bicycling organizations:
Like us on facebook to follow our activity and help us create more joy!
How to Choose Cycling Apparel
* How to Choose Cycling Apparel
* Women's Bike Short Reviews
* Women's Chamois Pad Options
* How to Buy Men's Bike Shorts
* All About Cycling Jerseys
Tips for Better Cycling

* How to Get Comfortable Cycling with Bike Shorts
* Bicycle Tours and Expo's in Eastern US
* What to Wear When You are a Bike Commuter
* Replacement Chamois Pads