Bicycle touring is a beautiful extension of cycling that allows you to combine travel, exploration, and the thrill of new experiences and challenges with the joys of riding that you already enjoy. With proper planning, touring can be a refreshing new way to see the world, a more engaging way to travel from one place to another, and a great way to spend a vacation. However exciting the prospect is, it is important to realize going in that for most of us bicycle touring is unlike any other type of travel you've done before. It is also unlike any type of riding you've done before. While the thrill of heading out tomorrow can be exhilarating, it can also seem very daunting because the experience itself is so unfamiliar to most of us and it is impossible to get prepared for such a new experience overnight. While it may be impossible to compile a complete list of things to expect during your life on the road, you've got to start somewhere so we'll begin with a few key things to remember and consider. This list was compiled firsthand from our own personal experiences. Before we dig in, we want to stress that it is important to consider these things both before you leave as well as while you're out there. The points below will help to prepare you mentally, physically and logistically before you leave and they will also help to keep you on track while you're on your trip. Some of these tips are more general and lighthearted in nature while others are more serious, but they're all important and hopefully they get you thinking about other things to plan for before you finish packing and head out.
1. Be modest about your mileage.
For example, if you are planning a month-long tour, leave enough flexibility in your schedule to allow for 5 weeks. Likewise, if you plan to be on the bike for 7 hours a day, leave yourself 8 or 9 to get between starting and stopping points for the day. An unimaginable amount of things can come up during any given day that can collude to wreak havoc on your deadlines and expectations. (We'll dig a little deeper into the subject of planning mileage and stopping points next...
2. Plan 2 or 3 possible end destinations for each day.
Countless variables, including your riding ability and strength, the terrain ahead, the day's weather, unexpected mechanical issues and how you're feeling each day, can conspire to have a much greater effect on your daily mileage than any amount of pre-planning you do ahead of time. A huge rainstorm with unsettling winds can come out of nowhere and persist for hours. You may be 1 month into your trip and start the day with plenty of gusto but by lunch your energy is waning. The scenarios are endless and while you can't eliminate the possibility that one will come up, you can do your part to mitigate their effects. Start by drawing up a plan for daily destinations at, say, 40, 50, and 65 miles. This way you can ride with a plan that also allows you to be flexible on-the-fly depending on conditions that are out of your control. If you're in a part of the country where reliable lodging (whether it is camping or hotels/motels) isn't exactly widespread then do your best to know ahead of time what spots are safe so that you can prepare accordingly. This approach will help you to stay focused and work towards visible goals rather than just planning to bike until you're tired and then try to find a hotel or campsite.
3. It's always something.
Each day brings its own challenges and sometimes the only constant is that something unexpected will happen. Depending on the season and where you're riding, you can almost always count on one of these: If it's not hills then it's wind. If it's not rain then it's a crappy road. If the route isn't longer than you thought then the route is harder than you thought. Sometimes that small town you were banking on to refill your water turns out to be nothing more than a really small town that only consists of a closed post office and an old church (this actually happened). Regardless of what happens, do your best to stay mentally tough and you'll find a way to get to the campsite (or, a campsite) each day. You learn to roll with the punches and riding with a partner or group can be a great way to accomplish this. Which brings us to...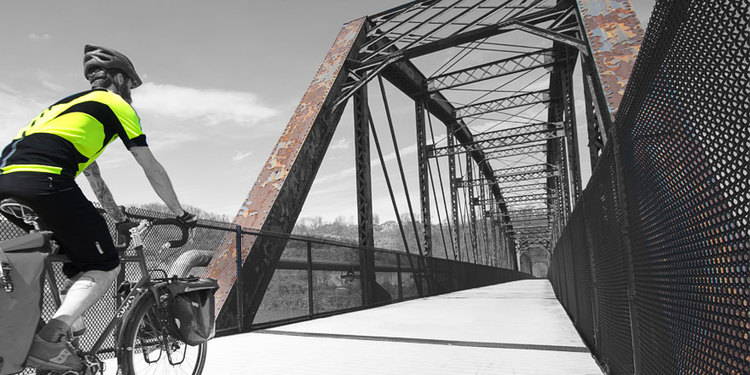 4. Surround yourself with the right people.
While some folks do tour solo, traveling with friends or in a group has some fantastic advantages. In addition to the motivational support that can come from others who are going through the same experience as you, riding with others can help with the technical side of the journey as well. Psychologically, riding in a group can help you to be a stronger rider (not to mention the benefits of things like drafting, if you feel comfortable riding this way while carrying your gear on a loaded touring bike). This tact also lightens the load by allowing all of you to help tote some shared gear and you can also divvy up responsibilities more evenly. Things like route planning, setting up camp, cooking and cleaning can be a lot less daunting when shared amongst a group.
5. Know your body and don't be too conservative when planning for the important things.
For example, it is tough to have too much water. If you usually head out for a long training ride with 2 bottles in your cages and refill them halfway that doesn't mean that you will be able to get by with this approach on your tour. You'll be surprised how rare grocery stores and convenience stores can be in remote areas of the world and water is one thing that you can't take for granted or go very far without.
6. Lean on the experience and insight of others.
Start researching blogs and reading message boards well in advance of your start date because it never hurts to be too prepared. You'd be surprised what you read about from others' experiences and you'll also be surprised when some of those same things that seemed so strange 6 months before you left actually end up happening to you after being out on the road for a few weeks. And when it's all said and done, don't be shy to share your stories with others since, unlike you, not everyone knows what it is like to go through this.
7. Invest enough time in developing the right plan.
Though this type or ride may be completely new to you, spend plenty of time really thinking about what type of approach works best for you. Some riders start out with a more manageable 7-day supported tour complete with a friend driving a SAG wagon to carry your gear (...and, if necessary, you), while others opt for the motel/bed and breakfast route instead of relying on camping. These non-camping options often provide more ample rest each night but, of course, your budget will need to be a little higher. Alternatively, it's important to realize that even if you only plan to camp half of the time and treat yourself to hotels throughout then you still need to carry all of your camping gear with you from start to finish. Camping 75% of the time still requires that 100% of your bike touring camping gear makes the trip with you. Organizations like Adventure Cycling (http://www.adventurecycling.org) are great resources for bicycle touring and they offer guided tours for all skill levels throughout all areas of the country. Whether you're looking for a fully supported tour or just want to use their route maps to go it alone, they have excellent resources available. Plus, their office in Missoula, Montana is a mecca for riders in mid-tour, complete with free ice cream and a polaroid wall of fame where you can join the pantheon of riders who came before you.
8. Make sure that you invest in the right gear.
You don't do yourself any favors by skimping on iffy gear because you are going to be relying on this gear 24 hours a day, 7 days a week for as long as your tour lasts. For example, if you find some decent waterproof panniers that cost a little more than a non-waterproof version, it may be worth the investment. I hate to break it to you, but it is going to rain during your tour. Probably several times. Just make sure that you're prepared with gear that you can trust and rely on. As we talked about earlier, unexpected things happen and if you have the right gear then you'll find yourself better prepared to deal with some of those things as they come up.
9. Take a training ride. Or two.
A few weeks or months before your trip, set aside a weekend to take a full-fledged practice run to a state park or campsite where you can camp overnight and then make the return trip the next day. Treat it as if you are actually on your tour so that instead of being a random Saturday and Sunday, you mentally treat it as Days 9 and 10 of your future tour, for example. See what works and what doesn't. Give yourself an opportunity to find out what things come up that you haven't dealt with before on typical rides. If you have the time, make adjustments when you get home and plan a similar ride a few weeks down the road to keep practicing and getting prepared before you actually head out. Plus, if you're planning a self-supported tour where you carry all of your gear then this will give you a better idea about what it is like to ride a fully loaded bike over long distances on consecutive days.
10. Remember to have fun.
There will be highs and lows during your trip and it is important to remember to keep things in perspective. You're probably setting out on this tour because you love to ride. When things get rough, and they probably will at some point, remind yourself and your fellow riders that things will always get better and if nothing else...at least you're riding everyday instead of going to the office. You'll look back on this with fond memories so enjoy the moments as they happen and always look on the bright side. On one tour, we modified our route to include the Badlands and Mt. Rushmore in South Dakota. Though the terrain and weather were challenging, the detour ended up being one of our most cherished memories of the whole tour. We stuck out the weather and had a blast once we reached our goal. We hope that you are able to take some valuable things away from this short list and hopefully it will at least get you thinking about the best ways to prepare for your tour. If you're on the fence about whether touring would be something you would enjoy, we encourage you to consider giving it a shot. Touring truly is a great way to travel. Unlike flying or driving, it is unique in that you have an opportunity to enjoy the trip as well as the destinations. If you have any questions, feel free to leave a comment and we'd love to answer anything that wasn't covered above.
Ride safe and often.
Learn about one of our favorite bike tours
The Great Allegheny Passage / C&O Canal Towpath