Aero Tech Men's All-Day Cycling Shorts - with Mesh Side Pockets
All Day Cycling Shorts deliver 6 hours of comfort
Made in the USA
Fabric is durable long lasting 84% Nylon 16% Spandex
Knitted in a tricot warp knit that endures abrasion like a champ
Power-band leg grippers with three step zig zag
3M Scotchlite reflective pockets for all way visibility
Special mesh on side pockets to store items on and off the bike
Dense italian chamois padding is great for 6 plus hour rides
Designed and made in Pittsburgh, Pa
High density chamois is 40-80
This is the latest update to our Top Shelf cycling shorts. This is a high end, long distance cycling short from the designers and engineers who work at Aero Tech Designs. This men's cycling short is made of the proven and tested spandex fabric we have been using for many years. Ideal for avid cyclists who need muscle support for intense cycling. The shorts have a light compression to compress muscles for a light massaging support. The fabric is a blend of stretch nylon and spandex yarns that help the moving muscles and reduce movement from vibrations. The spandex fabric is a tireless workhorse for those who ride long distances often. The fabric we use in our All Day cycling shorts was tested on our Martindale Abrasion Tester and it passes the test perfectly. The fabric is rugged and stretches in all directions yet is soft to the touch.
The leg bands on this cycling short are soft and comfortable. They are highly functional to keep the shorts in place. The leg band is a two part spandex fabric with a light silicone gel on the inside to help keep the legs in place for long, all day rides.
The waist is a one inch elastic that is firm enough to keep the shorts in place but never feels binding. It is coverstitched flat for softness next to the skin. The seams are flatlocked for maximum stretch. The hems of the legs are sewn with a three step zig zag that feels so soft like it is invisible.
BIG Sizes are available! Also see our Men's BIG All Day Cycling Shorts
3M Scotchlite Means Enhanced Visibility

Highly reflective for enhanced visibility. Developed by 3M to help athletes be seen at nighttime and low light conditions. The 3M Scotchlite material provides increased visibility on the moving parts of the leg.  This is extremely important because each year, many athletes are killed in traffic crashes. Of the total accidents, 65 percent of pedestrian fatalities occur between 6:00 p.m. and 6:00 a.m.  Using Reflective clothing can increase visibility.
Match the All Day Short with a New Jersey
The All Day Chamois pad is 4 layer and three densities of foam.  It is a top performance road pad designed to give cyclists all-round and long lasting comfort for rides up to 6 hours.  The thickest areas have a dual density foam that puts two different densities of material in key areas.  This guarantees top performance because of its foam combinations.  Vibrations and shocks are absorbed by a high impact foam layer on the saddle side and comfort is optimized thanks to the medium impact foam which is the top layer in contact with the body.  The elasticity of components enhances the pad's ergo fitting qualities while perforated foams improve breathability.  In addition, the elastic carbon surface fabric enhances airflow thanks to it's funnel-like structure, leaving cyclists cool, fresh and friction-free.  It's carbon yarns are bacterio-static, in other words, they dissipate static electricity and have a permanent antibacterial effect that eliminates the risks of infection.  Elastic backing provides support without restricting the pad's all way stretch and breathability. 
This is a long distance cycling pad, with a 10 mm thickness at the ischial bone area with a density of 40 to 80 kg depending on the area of the saddle.  The fabric on the face of this chamois is a highly technical blend of microfibers that prevent the growth of bacteria through a fine antibacterial stripe.  This pad is designed for long distance - six hour rides, and century events.  The pad's key component is the highly engineered Italian foam that cushions with a dual density, with high impact support in key areas. 
The pad is multiple layers with the top layer being a blue color, microfiber fleece with antibacterial finish, this is laminated to a lightweight foam.  The pad is skythed cut with a lazer to a highly engineered shape for men's comfort on a bicycle saddle.   Just the density needed is left behind on the foam once it is lazer cut to various thicknesses and cutouts.
The Chamois pad was developed for touring and long distances (6 hours plus)
The peak thickness is 10 mm with an engineered density of 40 to 80
Foams are perforated for coolness and breathability.
Engineered Italian foams with dual density for key bone areas
The fabric face of the pad is soft micro fleece
BIG Sizes are available!  Also see our Men's BIG All Day Cycling Shorts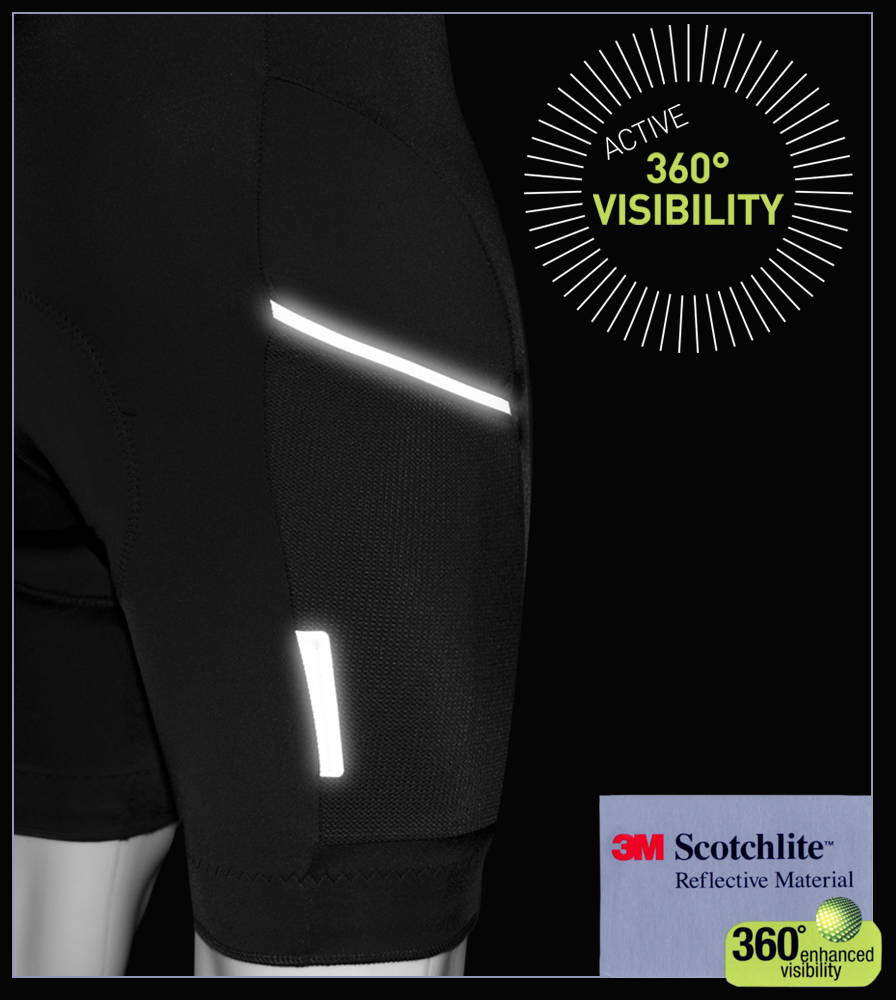 Size
Waist (inches)
Inseam (inches)
Size
Waist (inches)
Inseam (inches)

Small

28-30

8 1/2

Medium

32-34

8 3/4

Large

36

9 1/4

X-Large

38-40

9 1/2

XX-Large

42-44

9 1/2