Description
The chamois padding is a chafe free, long distance pad that has multiple levels of cushioning. The Top Shelf chamois pad is full of technological engineering. One key feature is the Multi-Level-Pad (MLP) which is a 3D engineered collection of foam pieces that fits snugly within the curves of the legs and torso to create a perfectly smooth and abrasion free chamois padding. Men's Top Shelf Padded Bike Short - Why Compression? Want great compression and muscle support? Aero Tech Designs presents the Men's Top Shelf bike short. This padded bike short is designed for long distance bike riding. It has an anatomical, eight-paneled design. This garment is made from a special technically designed fabric that has high Spandex content. The compression from the fabric of our Top Shelf Bicycle Shorts hugs the muscles for support and reduction of muscle fatigue. These bike shorts move freely with the pedaling motion to prevent chafe by design. We eliminated the seams between the legs and the smooth inner leg reduces abrasion and saddle sores. These bike shorts keep you comfortable with high quality fabric and a long distance chamois pad that is imported from Italy and engineered for long bike rides.
The Top Shelf Chamois pad has an excellent fit which is impossible with one piece pads. The surface of the chamois is an antibacterial, micro-fine brushed polyester fabric that wicks the perspiration away from the chamois area to keep you dry and comfortable on long rides. You will appreciate the great fit of the Top Shelf Chamois pad, a fit you can't get with a seamless construction. Like a baseball, the chamois pad has seams cut with curves to fully and efficiently wrap all the curves between the legs. The crotch area has three severe curves, the torso and two thighs which all have a steep curvature. To maximize the fit, it would be impossible to fit all these curves with a single flat piece of fabric. To effectively protect this area, the top shelf chamois padding is assembled by sewing curved wings onto the primary pad area, this creates an excellent fit that maximizes protection and saddle sore prevention.
These bike shorts move freely with the pedaling motion to prevent chafe by design.
Features:
Top Shelf Bike Shorts have a stretchy, superior fit with rugged durability for long bike rides
Chamois padding is smooth with a Coolmax antibacterial microfiber surface
Coolmax face fabric on the chamois padding is smooth antibacterial microfiber stretch fleece
The shorts are made with high quality tricot knit material that has a with six-way stretch
The high spandex content supports the needed compression for cycling fitness
The fabric is 77% Nylon 23% Spandex, 8.2 oz. tricot construction
Legs have a silicone gripper elastic that has a three step zig zag hem - very soft and comfortable
Flatlocked seams are smooth for next to skin softness
Waist elastic is soft, 1 inch with a non roll feature that is coverstitched
Leg grippers prevent shorts from riding up
Smooth, seamless inner leg reduces opportunity for abrasion and sores
3M Reflective Tabs for light refraction back to it's source
Unconditionally guaranteed | Tested - proven performance
Machine wash, air dry for longest life of the short
Made in the USA - Factory Direct Value
Colors: Black and Silver
Aero Tech Bib Short - Size Chart
Size
Waist (inches)
Inseam (inches)
X-Small
24-26
8 1/4
Small
28-30
8 1/2
Medium
32-34
8 3/4
Large
36-38
9 1/4
X-Large
38-40
9 1/2
XX-Large
42-44
9 1/2
Big Sizes Available HERE!
Chamois Pad Information: Top Shelf Chamois Pad
Top Shelf pad is an anatomically designed pad for the bike riding position. The Multi-Level Pad M.L.P uses multi-level production technology and Multiple Layered Foams to improve comfort by relieving the pressure points between the body and the bicycle saddle.
What makes this pad special? It is the fantastic fit that comes from a highly engineered design that fits all the curves that we have between the legs and around the body's pelvic area. The side wings on this pad offer up excellent fit around your legs and torso. This excellent fit is not available with one piece pads.
The surface of the chamois is antibacterial which is important to prevent the growth of bacterial which lead to saddle sores for long distance cyclists.
Pad Thickness: 10mm in saddle area, 5mm on sides Anatomical design for riding position: ergonomic concepts were employed for the design of this bike short that hugs the muscles for support and reduction of muscle fatigue.
The M.L.P (Muliti-Level Pad) uses multi-level production technology to improve comfort by relieving the pressure points between the body and the bicycle saddle. The new pad system incorporates the long established Hygienic fabric
Foams: High Impact Perforated,
Thickness: 10 mm total thickness on sit bones, 3Dimensional 10 mm 6 mm 5 mm Density: 60 kg
Category: Long Distance Cycling Road or Mountain Biking. The pad system incorporates the log established Hygienic fabric. The M.L.P.is a cycling seat pad made of polyester microfibers. The chamois pad is engineered across the ischial bones so that you can ride a long distance with your ischial bones padded.

The Top Shelf long distance chamois pad is 10 MM thick in saddle sit bones area. The best fitting chamois on earth - there is no other pad that will fit into your crotch curves better than this highly designed and engineered chamois pad. The bike short has a MLP (multi-level-pad) that is 3D engineered for effective support of the key sit bones. The keenly designed shape eliminates chafing and smooths out the crotch area for maximum comfort on long bicycle rides.

We recommend you grease up the pad with an anti-chafe cream when riding long distances. If you want our thickest pad, try the elite chamois pad which is for 100 mile rides. It has a dense chamois pad that is our favorite for century rides.
Also see Big Man's Top Shelf Bike Short and our Women's Top Shelf Bike Short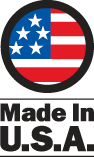 77% Nylon 23% Spandex tricot knit that is about 8.2 ounces per square yard
Top Shelf Padded Cycling Shorts for Men - Made in the USA
Warranty Information
Full warranty on Manufacturing Defects. Call 412-262-3255 for more information.