Description
Aero Tech Rush Cycling Caps - BIG Red KAHUNA Tropical Print- Proudly Made in USA

All new designs - All new fit - All new performance delivered!
Big Red Hibiscus is a classic, tropical design we wear to that special event...when you are feeling cool. The brilliant red tropical print has a matching men's bicycle jersey that is just as exciting. A red, fully breathable cycling cap is a comfy hat to wear with or without your helmet. It is a wicking fabric that helps to deal with the heat and perspiration. This cycling cap includes all the classic elements that we are font of. See the cycling cap features list below. They cap is fun to wear and super cool to the head. The AeroDri™ fabric is a highly technical polyester that is breathable through micro mesh construction. The hat has elastic adjustment in the back and a full "stay-on" yet loose feeling comfortable fit.
Plastic brim is bendable up or down
This Big Red Kahuna tropical print cycling cap is part of our new "creatively enhanced" batch of caps. Hats developed with the feedback we received from our loyal customers who take the time to write us and give feedback. Your comments are very important to us. The fit is deeper and looser on the head. This cycling cap fits most everyone here at our shop. We all were excited when our lead designer came up with this super cool batch of graphic sublimation printed cycling caps. They fit great, they look fantastic and most important, they deliver comfort, performance and great looks.
Twelve new designs. See them all here: Cycling Caps
FEATURES:
* AeroDri™ Fabric is 100% Polyester
* Built in Sweatband
* One inch wide Elastic back is soft not firm
* Plastic brim is bendable up or down
* Brim keeps eyes shaded and shields rain drops
* Great to wear alone or under a helmet
* Colorful Red and White Hibiscus tropical print
* Made in USA
* AeroDri™ Fabric is technical for wicking perspiration away from skin to keep head dry.
FABRIC:
AeroDri™ is a wearable tech fabric that manages moisture away from the skin for evaporation. Moisture management is one of the key performance criteria in today's apparel. Moisture management is the process of transporting moisture away from the skin to the garments outer surface Moisture management often refers to the transport of both moisture vapor & liquid away from the body. Wetting and then Wicking is the nature of a technically designed fabric. In the heat summer and athletics, trapped sweat can heat up the body and lead to fatigue or diminished performance. When wearing a garment manufactured with AeroDri™ , the moisture vapor can pass through openings between filters of yarns. The polyester fibers are extruded in an angular shape and then knitted into a highly technical two stage fabric surface. The technical composition of fiber, fiber shape and knitting process all support the maintenance of body temperature.
Content: 100% Polyester
Weight: 190 Gram/yd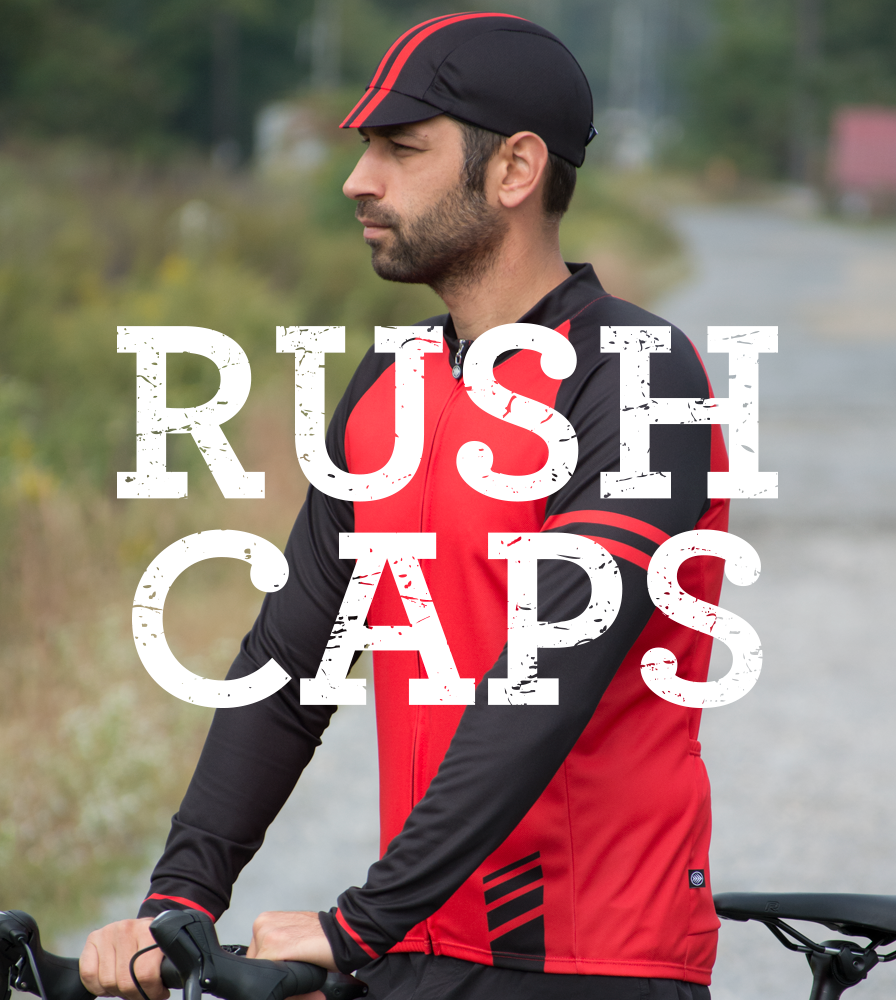 Crafted with pride in the USA! Factory Direct Price and Value!

Aero Tech Rush Cycling Caps - Big Red Kahuna Tropical Print - Made in USA
One size Cycling Cap - 100% AeroDri™ Polyester
Q&A
Reviews