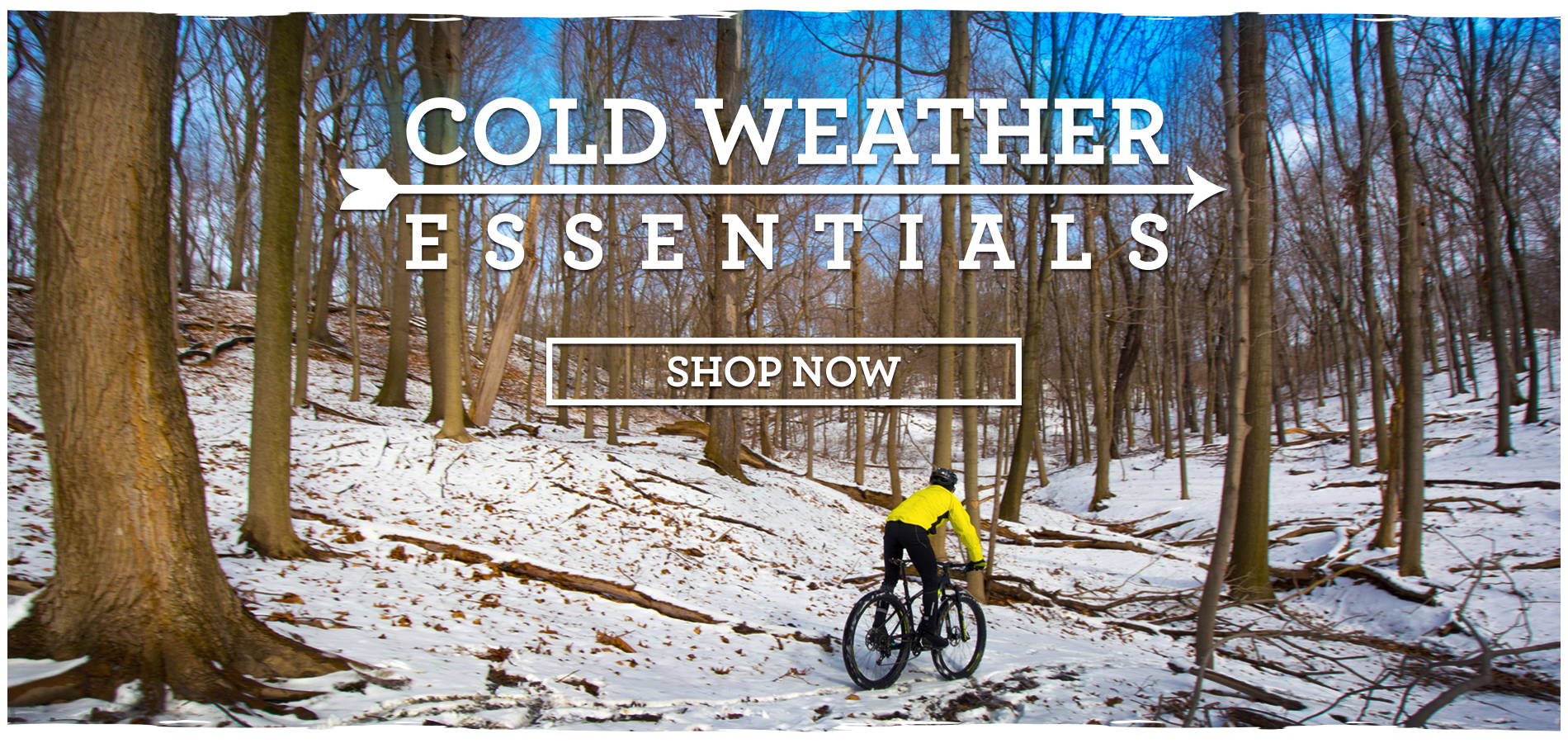 Once your body gets cold, it will try to preserve heat in your core, taking blood supply from your legs. Riding at a high effort can become more challenging. We have found that it becomes one of those issues that you have to keep pushing through. Cold weather is not a debilitating ride-ending problem, but it makes the training experience harder and slower than a moderate-temperature ride. Cold weather riding requires adequate cold weather riding gear. This gear can include thermal bibs, long sleeve jerseys, tights, thermal baselayer, wind-proof coats, and riding pants. Many riders use neoprene face shields that cover the rider's neck, nose, and cheeks. We wear our neoprene shoe covers over our shoes and add a tiptoe warmer inside our socks. The neoprene boot covers provide double insulation for our feet. Some riders use hand and foot warmers that come in baggies and can be activated when needed and placed inside gloves or shoes for cold days. Another issue that riders experience in cold conditions is frozen water bottles. We have found this to be much worse in bottles with bite valves because the liquid in the straw freezes more quickly than the liquid in the bottle, forming an ice plug. When riding in temperatures in the low 20s, we have found that water can freeze in a water bottle as quickly as 15 or 20 minutes. To prevent hydration drinks from freezing, we ride with a backpack to put insulated water bottles. If you prefer riding without a pack, choose a route in which you can stop for water.
Pick a product to learn more about
5 Tips for Cycling in the Cold Weather
Now that the days are getting shorter and the mercury is dropping, we need to watch the forecast and plan to stay warm and safe this autumn. Cycling through the seasons is fun and will keep you fit and happy throughout the colder months of the year. Nothing ruins a ride faster than freezing wet feet and cold hands that never return to temperature. Our five tips will help you stay warm and have your best fall cycling adventure yet!
1.)Prepare your bike: The challenges for a bicycle during the fall and winter months are more of the preventative kind. The main goals are to minimize flats, keep the shifting smooth, and keep the rider dry. Start the season off by installing fenders and bigger tires with a puncture protection system as soon as the weather changes. We have times of rain, sun, or snow in the fall, and we recommend having a tire that will perform great in all those conditions while helping keep your flat count to a minimum. The fenders will keep your backside dry when you hit unavoidable puddles. As for the chain and gears, keep your bike clean and happy. You can see our tips here on how to clean and lube properly. A clean bike means fewer broken parts, less chain oil on your pants, and more time for fun.
2.)Know the forecast and pack accordingly: We know it sounds trivial and somewhat daft, but yes, the forecast will create your outfit for the ride. Look at the morning and the afternoon temperatures and conditions. If you are a commuter, prepare accordingly as mornings can be freezing, but afternoons may be toasty and warm. During fall on the east coast, the weather can change in a drop of a hat. If the forecast calls for rain around your ride time, pack a small rain jacket. This Lightweight Packable Rain Jacket is cost-effective and will get you out of a pinch for sure. Opting for some thicker gloves may be a good option as well. We recommend wearing toe covers under your shoes and packing booties if the rain is coming. Windbreakers and vests are a great way to stay warm on descents and cold areas while minimizing added bulk to your jersey or bag. The ATD Windbreaker is incredible for such days
3.) Be visible: The daylight is getting shorter and shorter, and a ride a 5:00 pm can mean coming home in the dusk and dark, so prepare with the right gear. Wear high-visual gear in the fall and winter months, keep drivers and others aware of your position on the road. A blinking light for the front and rear of the bike is a way to add protection. The Cat-Eye small ribbon lights and the Fiks Reflective wheel and frame for a double dose of reflectivity are great to use!
4.)Keep those digits toasty: Nothing is worse on a ride than cold hands or toes. The happier your extremities, the more comfortable the whole body and mind will be. Get yourself an excellent, dependable set of waterproof or windproof gloves to start the season off. Pack for the worst and keep some chemical hand warmers in your saddlebag for your toes and hands. The insulation from the gloves and booties will keep the heat trapped inside, and you'll be warm for hours to come. We have a wide selection of full-finger gloves.
5.)Food and hydration: With all this prep and planning, it's easy to forget the simple things: eating and drinking. Gels and protein bars can get cold or frozen if the weather is bad enough. Pack comfort foods that not only add nutrients to the body but can also add the kick needed to help you finish your ride strong. Try Apple Cinnamon Hot from Scratch Labs for a holiday taste on your ride or our favorite: Nutella and almond butter on a toasted English muffin wrapped in foil. Whatever you like, make sure to eat it because your body needs the fuel when it's working hard keeping you warm and crank up those hills.