Description
Aero Tech Women's Stretch Fleece Padded Cycling Tights
Woman's Specific Made in USA Black Brushed Fleece Padded Leggings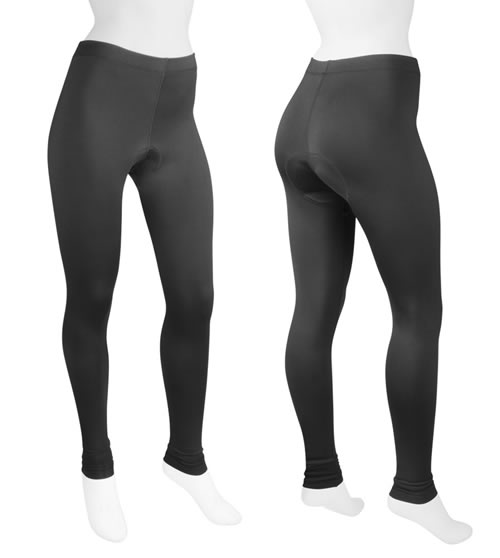 Aero Tech Women's USA Classic Cycling Tights are ideal for thermal insulation during your winter rides. The Women's Mid-Weight Stretch Fleece Padded Tights have a luxurious fabric that is soft yet rugged for fitness abrasion. They become invisible, like a second skin, when you exercise or move around.
Stay warm and cozy during winter outdoor activity with our Power Stretch Fleece Riding Tights with the highest quality four-way stretch brushed polyester fleece. It is very rugged yet soft because we design our USA Classic Tight with a High-end Polyester/Lycra fabric for performance-oriented people. The stretch fleece tights are made of high-performance zirotek, engineered after the polar bear's fur. The hollow core of filament yarns traps air to improve thermal insulating characteristics. Fabric is all-way stretch poly spandex with a brushed fleece interior and smooth exterior. The heat is stored in the hollow core center and released back to your body to keep you warm, the same way polar bear fur works. The zirotek fabric allows you to enjoy all outdoor activities and stay warm in the cold climate. The USA Classic Tights are warm without weight features and provide complete freedom of movement, which is expected for garments where protection against the elements counts.
Features:
Women's Specific Fit
Thermal Brushed Fleece Fabric

Durable Stretch Fleece Fabric with 4-way Stretch
Smooth Outer Face, Soft Fleece Inside
Pilling and Abrasion Resistant
Temperature Range: 32 - 45 Degrees Fahrenheit

Victoria Chamois Pad

Multi-density Layers of Foam and Fabric
3-5 Saddle Hours

Wide Soft-Stretch Roll-able Elastic Waistband
Thin, Non-Restrictive Ankle Helm
Flattering Design with Minimal Branding
Plus Sizes Options Available
Made by hand in the USA with High-Quality Labor
Aero Tech Women's Tights - Size Chart
Size
Women's Size
Hips (inches)
Leg Inseam (inches)
X-Small
0-2
32-35
27
Small
4-6
35-37
28
Medium
8-10
38-39
29
Large
12
40-42
30
X-Large
14-16
43-44
30 1/2
XX-Large
18-20
45-48
31
3XL
22-24
51-53
31 1/4
4XL
26-28
55-57
31 1/2
Chamois Pad Information:
Victoria Chamois Pad
Women's Triumph Padded Cycling Compression Tights have a breathable, shock absorbing chamois padding sewn into the crotch area of the tights. The face of the chamois pad has a light fleece microfiber fabric that is hydrophobic which means it stays dry and keeps moisture from building up in the saddle area. The material is 100% polyester with a wicking action that pulls moisture to keep the pad dry. The 3D pad is engineered to have multiple layers of fabric and multiple densities of foam for cushioning the bicycle ride. The pad is elastic and stretchy with technical micro perforation for breath ability and air flow.

The engineered foams are precision cut for stretchability and excellent anatomical fit. The surface has an antibacterial surface to keep the chamois pad protected from bacteria that causes saddle sores. This chamois is ideal for users of chamois butters or anti friction creams.

This chamois padding is 3 dimensional with varied levels of thickness. Chamois pad is lightweight and perforated for breath-ability. Its design enables a thicker density for the sit bones and a thin density between the legs and in the chafe zones on the bicycle saddle. The pad has rapid sweat absorption, is easy wash & quick dry. Pad has a 3 Dimensional molded design with laser cutting technology that creates thicker and thinner densities of foam where it is needed on the bicycle saddle.
Women's Stretch Fleece Cold Weather Padded Cycling Tights | Made in USA High-Quality Padded Bike Leggings
Warranty Information
Full warranty on Manufacturing Defects. Call 412-262-3255 for more information.