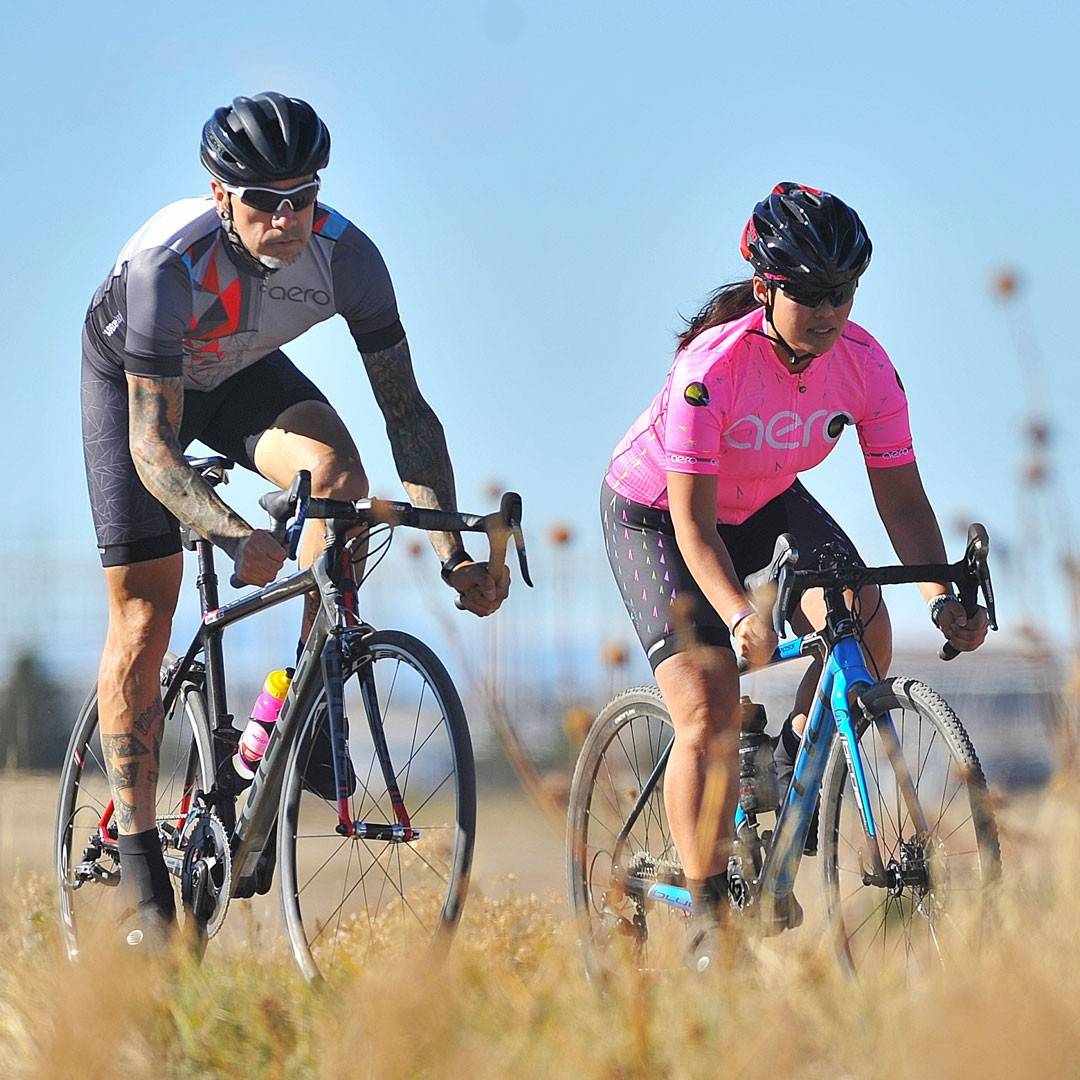 Cycling shorts generally come in two styles: bib shorts and regular shorts. In this article we'll explain why bib shorts are generally the superior choice. We start by clarifying what exactly are bib shorts and how they differ from traditional shorts, we list the main properties of a good pair of bib shorts and the ways in which they are an improvement on other styles of cycling shorts.
Bib shorts are, simply defined, cycling shorts made out of a light, body-hugging material with straps that go over the rider's shoulders. They're a classic item of the recreational and competitive cyclist's wardrobe. The main function of bib shorts is rather straightforward: the straps keep the shorts from riding down the legs of the rider without the restrictiveness of a belt or an elastic waistband. The constant pedaling motion, as well as the frequent change of positions on the bike, often result in clothing bunching up and subsequently in increased friction. Friction is one of the main enemies of comfort in the saddle, especially on long rides.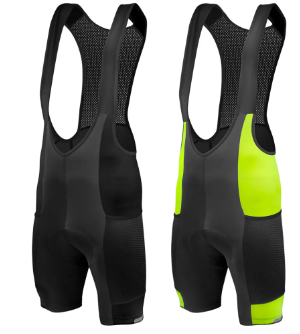 The heart of the bib shorts is the chamois pad. This little piece of special padding is shaped to fit and protect the vulnerable undercarriage of riders. Chamois pads ward off excessive chafing and friction, and the first time you go on a long ride wearing a good chamois pad will be an eye-opener as to how good cycling clothing can boost on-bike comfort. Keep in mind that a thick pad is not always better, and advanced chamois pads come in variable widths to match our disparate anatomies. It is also worth noting that bib shorts are designed to be worn without underwear, because having additional layers of fabric between your skin and the shorts can be a source of friction. Bib short straps help keep the chamois pads where it needs to be, right below the rider's sit bones. As popular as bib shorts are among the realms of recreational and competitive cyclists, their function and utility are not immediately apparent to beginner cyclists and those who have not yet explored the range of offerings in contemporary cycling technical clothing.
Bib shorts are manufactured from a mix of sports-specific fabrics that offer the necessary characteristics and features. These fabrics should have a high degree of stretchability, breathability and have some compressive properties that makes them feel like a second skin.
Bib shorts should fit tightly on your body. They should not be restrictive, but a skin-tight fit will ensure that they perform the way they were designed to.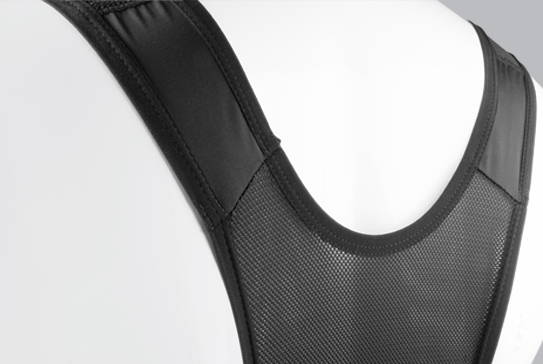 Five advantages of bib shorts over regular shorts?
1. The biggest advantage is that they retain the fit of the shorts with movement, and prevent the fabric from bunching up into uncomfortable wrinkles between your skin and the saddle.
2. Bib shorts have an effective integrated fit system, between the skin fit material and the shoulder straps you have enough grip on your body that prevents them from sagging down even on the most vigorous of rides. No belts, waistbands or additional straps required that could restrict your midsection and prevent effective breathing.
3. This is subjective, but aesthetically they look better on the bike. They prevent any unsightly gaps from appearing between your jersey and shorts (which also expose your skin to potential sunburn). Keep the baggies for hikes.
4. Aero advantage: baggy shorts do not cut through the wind as effectively as a skin-fit pair of bib shorts. You know that feeling when you're wearing loose clothing in windy conditions. You don't want to feel like you're wearing a set of sails when you're riding in a headwind.
5. Bib shorts keep the chamois pad right where it needs to be, below your sit bones, and it prevents it from moving as you pedal and move on top of your bike. This greatly minimizes excessive chafing and painful saddle sores, which are the result of excessive friction. The stretchy fabric of Bib shorts as well as the shoulder straps keep the chamois pad in the right spot and prevents it from wrinkling and irritating your skin.
*Tall sizing adds about 3" to strap and inseam lengths
What to look for when buying bib shorts?
Bib shorts should fit tightly on your body. They should not be restrictive, but a skin-tight fit will ensure that they perform the way they were designed to. Not being used to wearing skin-tight clothing or feeling a bit self-conscious, many new cyclists will often pick a larger size when buying their first pair of bib shorts, resulting in an ill-fitting short that will not perform as intended. Straps should be snug over your shoulders but should not feel uncomfortable, especially in the bent forward position where you would be when on the bike. Fabrics come in winter and summer flavors, but in general they should be breathable and sweat-wicking.
Nowadays bib shorts come with male and female-specific chamois pads, and this is important because people come in all sizes and shapes and chamois pads are offered in various sizes, thicknesses and materials to suit various preferences. Chamois pads also come rated in terms of the comfort level they provide over rides of different duration. If you often go on long rides (or planning to do so), pay close attention to the listed specs of the chamois pads in the shorts you are considering purchasing, which will often list the rating in hours of riding.
It is also important to note that chamois pads require careful care that not only prolongs their service life, but ensures that you minimize the chance of saddle sores or other friction-related annoyances. Get out of your shorts and wash them after every ride, and do not use shorts more than once without washing. You might also consider the use of chamois cream, which is a soothing emollient, often with anti-bacterial properties, that further enhances the effectiveness of a good pair of bib shorts and minimizes the chance of skin infections and painful sores.
There are several other features that may or may not be important to you, depending on your cycling experience, such as:
- Silicone leg grippers which prevents the shorts from riding up your thighs with prolonged peddling.
- Thicker and warmer materials to suit riding in cold and/or wet conditions, such as fleece-lined shorts with water-repellent fabrics.
- Wide, seamless straps that fit snugly on your shoulders yet don't dig into your skin causing irritation.
- Women-specific bib shorts also have subtle yet important differences to better fit the female body. Female-friendly features such as quick release and halter-style straps that make it a better fit with women's undergarments as well as making bathroom breaks easier.
Are there differences between road and mountain bike shorts?
There are two main differences between road and mountain bike bib shorts: 1) fabrics used and 2) where the chamois pad is placed. Mountain bike bib shorts will often make use of thicker and more abrasive-resistant materials. Mountain bike bib shorts will also have a more centrally sewn pad designed for the upright riding position of most mountain bikes. Many mountain bikers will often wear bib shorts underneath the traditional baggy shorts commonly worn by ardent trail riders.
Some people argue that bib shorts are a remnant from days gone by, before the advent of advanced fabrics, materials and manufacturing methods. This argument proposes that having these things now does away with the need for shorts with what essentially are suspenders. While this argument has some truth in it, the undeniable fact is that there are many features of a well-designed pair of bib shorts that makes them far superior to shorts in terms of performance and comfort.
Bib shorts have undergone a significant evolution since the inceptions of the early versions of technical cycling clothing. Recent invocation in technical fabrics as well as more advanced methods in tailoring and manufacturing of technical sports clothing have taken modern bib shorts into higher levels of performance and comfort. Previously regarded as a piece of clothing that only elite road riders would benefit from, the versatility and comfort afforded by modern bib shorts have resulted in wide adoption across all cycling disciplines.
Written by Aero Tech Designs