Description
Men's Gel Touring Padded Bike Shorts with Pockets
Made in the USA | Mesh Pockets | Long Distance Gel Pad | Anti-Chafe Fabric
The Aero Tech Designs Gel Touring Short is the perfect cycling short for long rides, touring, and commuting. The shorts are made with a combination of high-quality materials including a stretchy Lycra spandex blend, and a gel chamois pad for maximum comfort. The gel chamois pad is strategically placed to provide cushioning and support where you need it most, reducing pressure points and preventing chafing. The shorts also feature a wide, comfortable waistband with a drawstring and flatlock seams to minimize irritation and chafing.
The Aero Tech Designs Gel Touring Short also includes a variety of convenient features such as deep pockets for carrying essentials, reflective accents for increased visibility in low-light conditions, and a 9-inch inseam for ample coverage (Inseam adjusts slightly per size). These shorts are designed with the cyclist in mind, and provide a comfortable, supportive, and stylish option for any cycling adventure. Whether you're heading out for a long day on the road or just commuting to work, the Aero Tech Designs Gel Touring Short will keep you comfortable and focused on the ride ahead.
 
 

Gel Touring Bike Short Features:

Made in the USA
Long Distance Gel Chamois Pad

6+ Saddle Hours
High Density Gel Inserts
Smooth Single Fabric Face

Made with High Quality Materials

Anti-Chafe, Durable Crotch Fabric
Premium Thread
Developed to last mutliple riding season

Innovative Features

Large Mesh Side Storage Pockets
Drawstring Elastic Waistband
Soft Silicone Leg Gripper
3M Reflective Accents

9 Color Options
Extended Size Range - Including Big and Tall
Factory Direct Value

No Middleman Price Markup
Made-To-Order Capability - Get your size even if it's out of stock

 
Size Chart
 
Size
Waist (inches)
Inseam (inches)*
 
Small
28-30
8 1/2
Medium
32-34
8 3/4
Large
36-38
9 1/4
X-Large
38-40
9 1/2
XX-Large
42-44
9 1/2
3X-Large
48-52
9 5/8
4X-Large
54-56
9 3/4
*Tall Sizes Add 2" to Inseam Length
 
Chamois Pad Information:
Gel Touring
Gel inserts, engineered to absorb road shock and help you ride longer and feel stronger. This gel pad has side wings that follow the body and also has a front modesty panel that perfectly covers up. The chamois pad design and density give perfect support for medium and long rides. The pad has high density foam and different transition areas that gradually change thicknesses to provide support from the seat area (Ischia bones). This gel chamois is perforated with holes to dissipate perspiration.
Men's Gel Touring Bike Shorts | Padded Cycling Shorts with Pockets | Made in the USA and Drawstring - Made in the USA
Aero Tech Gel Touring Shorts has a dense, gel-filled, anti-chafe pad for long touring rides. The Gel Touring Shorts also have a large mesh side pocket, reflective accents and are made in the USA with quality materials and labor. Aero Tech manufactures this short in all sizes, including tall. The regular inseam (non-tall inseam) is available in seven color options. The tall inseam is available in black (at this time) and sizes medium to 4XL. The Gel Touring Short is our best-selling bike short year after year.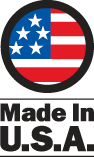 Warranty Information
Full warranty on Manufacturing Defects. Call 412-262-3255 for more information.
Check out our other touring products, including our Men's Gel Touring Bib-Shorts. The Gel Touring Shorts looks excellent with our safety yellow Classic Sprint Jersey. The Touring Shorts can easily match all of our Men's Bike Jerseys because of the seven color options. Visit our men's athletic socks and Tempo Cycling Gloves for some matching must-have biking accessories.