Description
Aero Tech Designs Solid Color Jersey - Premium Gender Neutral Cycling Jerseys
Aero Tech Designs presents a soft and wearable cycle jersey. This garment has many designer features with a soft, long wearing WickAway bike jersey. This garment gives you the service you need from a cycling jersey. It is packed full of design features that make this a real bargain. It has high quality WickAway fabrics, reflective elements and a great fit that does not flap in the wind. This bike jersey has three back pockets that are easy to use during bicycle rides.
Gender Neutral design is easy to customize with silkscreen printing or sublimation transfers. 100% polyester feels great in the heat and when you are hot from exercise. This cycling jersey is technically designed to make you comfortable on your bike rides. The fabric is high tech, high performance made from scientific polyester micro fibers.
Lightweight micro-mesh Fabric is cooling and stays dry
Features:
The 3 back pockets of this cycling jersey are set up high enough to prevent seat snags
Pockets can be stuffed full and are very easy to access while riding your bike.
Up and down the hills and temperature changes are easy to react to with the long 14 inch reflective zipper
One handed zipper pull up and down.
High quality sleeve cuffs and superior top stitching details.
Reflective Elements on each jersey for extra visibility
Technically designed polyester WickAway fabrics keep your skin dry and comfortable
Great fit is designed for American Sizes. This jersey is cottony soft and wearable.
All season wear-ability for hot and cold comfort - it is an ideal base layer next to skin.
Factory Direct Value - No Middle-Man or Retailer Price Mark-up
Made in the USA
Product Options:
Jersey Color Options
| | | | | | |
| --- | --- | --- | --- | --- | --- |
| | | | | | |
| Red | Orange | White | Royal Blue | Safety Yellow | Yellow |
Want something Hi-Viz!? The Solid Color Jersey is also available in Safety Yellow!
Detailed Photos

JM102 Solid Color Cycling Jerseys with 3 pockets in back, Gender Neutral design.
Fabric Information
Fabric: 100% Wickaway Polyester
Bike Jerseys that are made with Wick-Away fabrics are very soft and comfortable to wear, with excellent wick away of the sweat and moisture generated during aerobic activity like bicycle riding.
The fabric is designed with channeled and crimped yarns that are engineered to transport your body's perspiration to the outer layers of the fabric through a capillary action. The shape of the yarns simulate the softness of a cotton fabric yet maintains the highly effective moisture transport that matters to active athletes. It is proven that you are more comfortable when your skin is dry. This fabric is excellent at wicking the moisture away from your skin to support your effort to stay as dry as possible when it is hot and sweaty!
Complete the Kit!
The Solid Color Series. The Solid Color Gender Neutral Jersey is great for groups!
The Solid Color Cycling Jersey looks great with our 3M Slasher Tights. We also have matching accessories including our CoolMAX Athletic Cycling Socks, Tempo 2.0 Padded Cycling Gloves, and Solid Color Rush Cap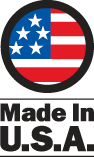 Fabric: 100% Wickaway Polyester
Solid Color Gender Neutral Bike Jersey - Made in the USA
Warranty Information
Full warranty on Manufacturing Defects. Call 412-262-3255 for more information.