Description
Aero Tech Women's Century Thick Padded "Butt Pillow" Cycling Shorts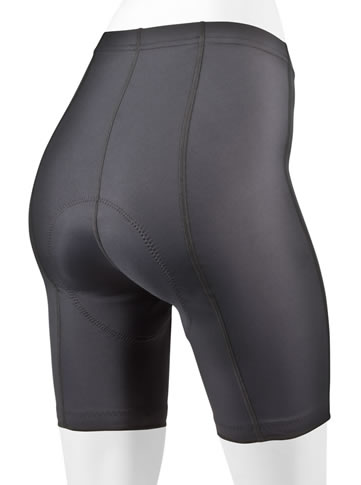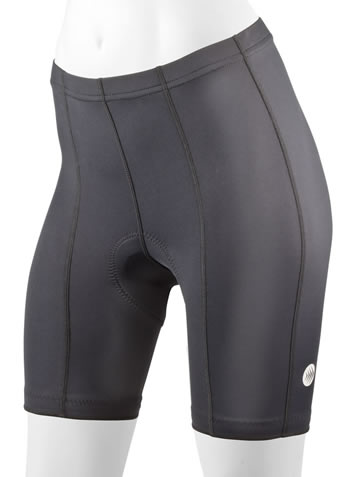 This Century Cycling Short is supremely comfortable on long bike rides, imagine your comfort on shorter rides!
The Aero Tech Designs' Thick Padded Century Cycling Shorts are made from a smooth stretchy fabric that feels cottony soft yet is a high performance polyester/spandex blend. It is a soft tricot knit with Lycra for stretch during exercise giving a complete freedom for movement.
The short is very comfortable to touch and to wear. The Century Cycling short has a luxury, Italian thick chamois pad for bicycling comfort on longer rides.
The fabric on the women's Century Cycling Shorts is specially constructed with smooth flat lock seams for softness next to the skin and easy stretch-ability. The waist is 1 inch wide with cover-stitched hems. The waist is on the high side so it stays in place and feels invisible once you start riding. Fabric is 83% polyester 17% lycra.
Features:
Fabric is a knit 12oz 83% polyester 17% Lycra with all way stretch
The high tech material is a wicking polyester with six-way stretch that is very cool in the heat
The compression from the Lycra spandex supports your muscles during exercise
Cross-grain cutting maximizes stretch performance to support cycling
8-panel construction is designed with curves for a women's anatomical position on bike
Smooth and seamless between the leg reduces opportunity for abrasion and saddle sores
Waist elastic is soft, 1" non roll with cover stitch hems
Soft, non-binding silicone gripper elastic with a flat 3-step zig-zag hem.
Color: Black
Made in the USA - Factory Direct Value
Supremely Comfortable on Long Bike Rides!!!
Aero Tech Women's - Size Chart
Size
Women's Size
Leg Inseam (inches)
X-Small
0-2
7
Small
4-6
7 1/2
Medium
8-10
8
Large
12-14
8 1/4
X-Large
16-18
8 1/2
XX-Large
20-22
8 5/8
3XL
24-26
8 7/8
4XL
28
9
5XL
30
9 1/8
Additional Information
The Century Bicycle Shorts' Thick Chamois Pad is Designed for your Anatomy.
* Specially designed perineal area without bulkiness to support female anatomy for Road or MTB bicycle riding
* Multi-Dimensional and Multi-thickness foam shape with wings for a stretchable Elastic Interface Technology chamois pad.
* Perforated foam on the inside of the pad for maximum ventilation and comfort on the saddle with airflow and breathability.
* Women's Chamois Pad is imported from Italy
Ride the big miles you have been wanting to!
Get Comfy with Women's Century Bicycle Shorts.
Century Fabric was developed for cycling!
The Century Padded Bike Short is designed for peak performance when cycling. To achieve that goal, we use our century fabric with an excellent chamois pad. Note to White Saddle users: This item may discolor your white saddle if you wear it before washing. : Machine or hand wash until water runs clear before using. Machine or hand wash multiple times until water runs clear before using. Always air dry; do not use a heated dryer. Please follow the same care instructions before wearing these with your white saddle.
FABRIC: Our century fabric is a warp knit with a highly technical blend of spun microfibers that are rugged and durable. The fabric is knit with all way stretch ability. It has a high Sun Protection Factor and is very cool in the heat. The fibers are a blend of 83% polyester and 17% Lycra Spandex. The Lycra helps support your leg and hip muscles during the cycling activity. To describe the touch or feel of the fabric would be to relate it to a soft, knitted cottony material with a matt black finish. It is a lux rich feel that is not shiny or textured. The fabric has a cool and dry feel to it.
LEG ELASTICS: The leg elastics are soft, non binding and feel like a second skin. They are silicone so they are soft next to your skin, they do not pick at your body hair and feel invisible once you start riding on your bike. The elastic on the legs are luxury Italian knitted materials that function to keep the shorts in place when your ride. The legs stay in place and do not move while actively riding on long rides. The top stitching of the leg elastics are with a 3-step zig sag stitch that is stretchable yet perfectly smooth next to the moving skin. This means they leg elastics are highly functional yet very comfortable.
To enhance the key performance indicators, we use all the softest stitching techniques. The waist elastic on this padded short is one inch wide non-roll. The waist is coverstitched with a flat, stretchable seam that hold the short at the waist. The shorts are fairly high in the waist so the back is fully covered in the bent over cycling position. All of the seams are as soft a they can be so that longer rides can be comfortable. Primary seams are flatlocked with a four needle flatlock stitch that is soft next to your skin. All of the sewn seams are flat as can be, plus the chamois pad is seamless.
Women's Century Bike Shorts are designed for your comfort on long bicycle rides.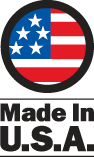 Fabric: 83% polyester 17% lycra
Women's Black Century Padded Cycling Shorts