Description
Aero Tech Men's Elite Endurance Cycling Bib-Shorts

The Men's Elite Bib-Shorts have a ton of features that truly make this product one of the best American made bib-shorts available. Find yourself at ease when riding long distance and long hours because this Elite bib short is designed for century riding (8 hour rides).
We use multiple fabrics in specific places to ensure longevity and comfort. The inner fabric is an abrasion resistant 77% Nylon and 23% Spandex and the outer material is 83% polyester and 17% Lycra. These fabrics together make the perfect amount of compression and comfort to reduce lactic acid. A Tall version is available that increases bib strap and inseam length. The side panels have a six way stretch, and wick sweat very well. There is even a hidden back pocket! The leg grippers use a silicone drip style band which keeps the legs in place.
The chamois in the Elite Bib Short is imported from Italy, and measures 15mm at the sit bones. Inside the chamois is an Air Gel Mesh that improves shock absorptions which reduces saddle fatigue. This makes the Elite Bib Short a perfect choice for long days in the saddle. Like all our products, the Elite Bib Short comes with an unconditional guarantee against manufacture defects.
The Men's Elite Chamois Pad Elite 4D chamois pad is recommended for endurance and long distance. The Elite Chamois pad is engineered and pre-shaped using four levels. Air Gel Mesh inside the pad optimizes the shock impact and absorption. Engineered channels for human anatomy are designed for the cycling position on the saddle. The pad is thick and dense. The legs have a 3M Reflective material with maximum luminosity. The surface of the chamois pad has a carbon fiber knitted on the face with anti-static elements and multi yarn functionality that gives a soft, nappy surface that feels nice next the skin.
Features:
American Made Compression Fabric
Silicone Dot Leg Gripper
Back Storage Pocket
3M Reflective Trim
Elite Gel Chamois Pad

Long Distance Gel Pad - 8 Hour+
Multi-Density Air Gel

Extensive Sizes: Small to 4X-Large
Three Color Options: All Black, Black/Royal, and Charcoal/Black
Factory Direct Value - Made in U.S.A.
Aero Tech Bib Short - Size Chart

Size
Waist (inches)
Inseam (inches)
Small
28-30
8 3/4
Medium
32-34
9 1/4
Large
36-38
9 3/4
X-Large
38-40
10 1/4
XX-Large
42-44
10 1/2
3XL
46-48
10 3/4
4XL
50-52
10 3/4
Tall Sizes Available HERE
Additional Photos and Features
Chamois Pad Information: Air Gel Chamois Pad
Italian Chamois: Elite 4D chamois pad is recommended for endurance. It is engineered and pre-shaped using four levels and densities of pad. The Air Mesh chamois is an ergonomic pad that is a state of art design. Imported from CyTech, an Italian chamois pad expert. The shape is seamless and highly engineered. Air Gel Mesh inside the pad optimizes shock impact and absorption. This chamois stays dry and does not compress. The surface has a Resistex branded carbon fiber that is a knitted, brushed surface that feels soft next the skin.
Two Fabric zones: One, the internal crotch area is a rugged 77% Nylon 23% Spandex for stretch and abrasion resistance between the legs. Two, the outer side panels are constructed with our century fabric that is 83% polyester 17% Lycra.
An ergonomic pad that is a state-of-the-art, highly engineered design! This chamois pad has a fabric surface from Eschler Bioactive. Eschler is the best of class for high certification standards that guarantee their ability to wick perspiration. This fabric also has natural antibacterial properties from silver ions in the yarn. The Italian made chamois pad is excellent for long distance road or mountain bike rides. It has a seamless surface design with a three dimensional combination of foams fitted together like a puzzle. These foams are engineered to absorb road shock and act like a pillow on the saddle. The fit is anatomically designed with a combination of elasticity and density. This pad tested in the excellent category by our product development team. Color: Charcoal
The pad's face has a thin microfiber yarn knitted in three dimensions to cushion. It does not retain moisture and stays dry next to your skin. The Memory Foam is perforated for stretch and breath-ability. The elite chamois pad can be used with anti-chafe cream if needed, but the way this pad is designed, it is so great at absorbing shock, you won't need much chamois cream except for the longest, hottest days. Gender specific pads optimize the performance for a bicycle rider. This pad is for men. The combination of technically advanced fabrics, foams and air mesh create a zero friction environment for cycling.
Features:
Foams: Multi Density and High Protection - Engineered layers
Thickness: 15 mm total thickness on sit bones
3 Dimensional, 10 mm High Impact Foam, 6 mm Air Mesh, 4 mm Open Cell
Category: Long Distance Cycling, Road or Mountain Biking
Size: 13 3/4 inches by 8 3/4 or 35.5 cm x 21 cm
Complete The Kit!
The Men's Elite CoolMax Reflective Jersey has a matching Elite Jersey and Elite Shorts available. The Elite Kit also is available in TALL SIZE Elite Jerseys and Bib-Shorts. Some Great accessories that match the Elite Kit are the CoolMAX Cycling Socks, Tempo Cycling Gloves, and Rush Cycling Caps.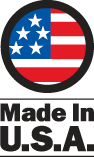 Crotch Panels: 77% Nylon and 23% Spandex
Side panels: 7% Polyester and 13% Spandex
Men's Elite Gel Padded Cycling Bib-Shorts
Warranty Information
Full warranty on Manufacturing Defects. Call 412-262-3255 for more information.