Description
Men's Advanced Carbon Elite Padded Bibs - Premiere Bib Shorts

This Bib is Performance Enhanced.
Show your colors with this awesome Racing Kit for high mileage cyclists.
Men's Advanced Carbon Elite Padded Bibs - Premiere Bib Shorts stay in place for high mileage rides like a century ride. It has our favorite chamois pad sewn inside which is pretty thick and dense for comfort after the 50 mile mark. The chamois is a high mileage luxury Carbon Air-Mesh Pad designed for professional cyclists. High-end endurance chamois pad for 80-100 miles or more. Ideal for rides with long hours in the saddle.
Tested and Proven Performer!
Features:
High spandex content enhances compression and blood flow.
Leg band with minimalist silicone tips that keep legs in place.
3M reflective material with maximum luminosity and visibility in low light.
Engineered for the anatomy to support long hours of riding.
The leg band is high spandex fabric with light silicone gripper.
Leg length that is just above the knee.
Seams are flatlocked for softness and stretch.
Ideal balance of features creates a short that you are sure to love.
It is our best chamois pad for aching butt bones!
Great selectivity included.
High end elite bib short is designed with longest distances in mind.
Fabric provides freedom of movement like a second skin
This Elite Cycling bib is designed for 100 mile century riding (8 hour rides).
Factory Direct Value
Italian Chamois: Elite 4D chamois pad is recommended for endurance. It is engineered and pre-shaped using four levels and densities of pad. The Air Mesh chamois is an ergonomic pad that is a state of art design. Imported from CyTech, an Italian expert. The shape is seamless and highly engineered. Air Gel Mesh inside the pad optimizes the shock impact and absorption, stays dry, does not compress and stays cool. The surface has a Resistex branded carbon fiber that is a knitted, brushed surface that feels soft next the skin.
Two Fabric zones: One, the internal crotch area is a rugged 84% Nylon 16% Spandex for stretch and abrasion resistance between the legs. Two, the outer side panels are constructed with our highly technical luxury print fabric that is 83% polyester 17% Lycra.
Specifications
Made in the USA
Manufactured by Aero Tech Designs
Sizes: X-Small to 3X-Large
Chamois: Elite Pad
Coordinates with Aero Tech Designs Advanced Carbon Jersey
Men's Premiere Bib - Size Chart

Size
Waist (inches)
Inseam (inches)
Small
28-30
9 3/4
Medium
32-34
9 7/8
Large
36-38
10 1/2
X-Large
38-40
10 3/4
XX-Large
42-44
10 7/8
3XL
46-48
11
Photos
Men's Advance Carbon Leg Gripper
Bike Shorts - Won't ride up!
Legs have a soft elastic-free band with a featherweight silicone surface inside leg cuff. The gripper appears invisible to the eye but highly effective to the touch. Legs are incredibly soft and nice to wear. No binding elastic yet the short stays in place during long, hard rides. The cuff is gentle on the skin and works perfectly to keep the shorts from riding up with the muscle flex during cycling.
3M Reflective Tab on Leg Band for Safety in Low Light Situations!
Chamois Pad Information: The Air-Gel Elite Chamois

An ergonomic pad that is a state-of-the-art, highly engineered design!
This chamois pad has a fabric surface from Eschler Bioactive™. Eschler is the best of class for high certification standards that guarantee their ability to wick perspiration. Natural antibacterial properties from silver ions in yarn.
The Italian made chamois pad is excellent for long distance road or mountain bike rides. It has a seamless surface design with a three dimensional combination of foams fitted together like a puzzle engineered to absorb road shock and act like a pillow on the saddle. The fit is anatomically designed with a combination of elasticity and density. This pad tested in the excellent category by our product development team. Color: Charcoal
The pad's face has a thin microfiber yarn knitted in three dimensions to cushion. It does not retain moisture and stays dry next to your skin. The Memory Foam is perforated for stretch and breath-ability. The elite chamois pad can be used with anti-chafe cream if needed, but the way this pad is designed, it is so great at absorbing shock, you won't need much chamois cream except for the longest, hottest days. Gender specific pads optimize the performance for a bicycle rider. This pad is for men.
Layers of the Aero Elite Chamois - Padding and Fabric:
Padding is a combination of technically advanced foams and air mesh create a zero friction environment for cycling.
Foams: Multiple Density and High Protection - Air Gel Mesh
Thickness: 15 mm total thickness on sit bones 3 Dimensional, 10 mm High Impact Foam, 6 mm Air Mesh, 4 mm Open Cel
Category: Long Distance Cycling, Road or Mountain Biking
Size: 13 3/4 inches by 8 3/4 or 35.5 cm x 21 cm
Fabric on Surface:
Elite Chamois Pad has a soft brushed fleece surface from a Carbon Yarn
The Chamois Fabric Face is antibacterial
Creates an even distribution of heat and air flow
Carbon guarantees a permanent antibacterial effect - naturally
The Chamois Structure: relieves pressure
Ergonomically designed to reduce pressure and avoid chafe!
Complete the Kit!
The Advance Carbon Kit also includes a Matching Advance Carbon Premiere Jersey. Aero Tech Designs has a great selection of high quality apparel accessories for riding comfort, including our Tempo 2.0 Cycling Gloves and our CoolMax Athletic Cycling Socks.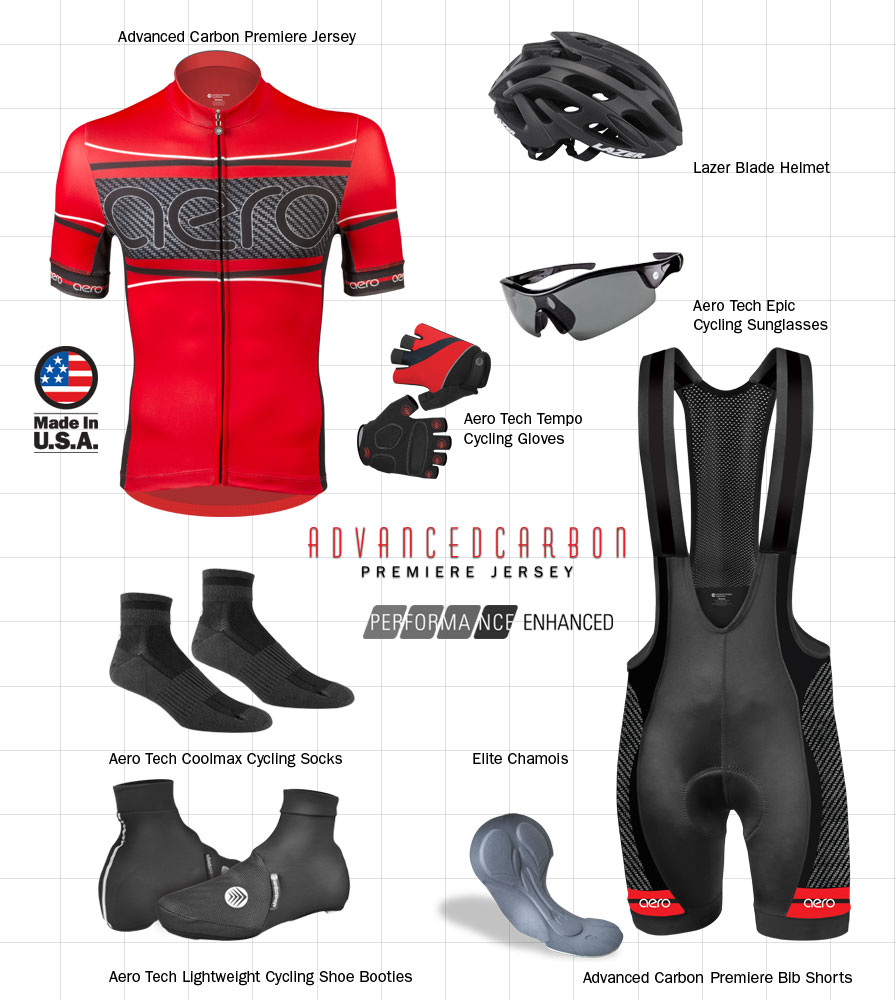 Inside Fabric: 84% Nylon 16% Spandex
Printed Fabric: 80% polyester 20% Lycra
Men's Premiere Advanced Carbon Bib-Shorts - Elite Gel Padded Cycling Bib Shorts
Warranty Information
Full warranty on Manufacturing Defects. Call 412-262-3255 for more information.