Description
Aero Tech Designs Custom | Sprint Jersey - Unisex Design for clubs and teams
Product Information:
Aero Tech Designs introduces the Sprint Jersey. Similar to our solid color jersey, the Sprint Jersey has a classic casual fit that is assembled from 100% polyester AeroDry™ fabric with set-in sleeves and tagless labeling. A full zipper with an Aero Tech Designs pull tab is standard and the Sprint Jersey comes equipped with three easy access pockets for water bottles, food, and extra clothing.
This jersey is the perfect cost effective customization option for charity rides or special occasions. The Sprint Jersey is available in sizes X-Small to 5XL in regular and tall sizes, sure to fit any size cyclist in your group. Hand crafted in the USA.Three generously sized rear pockets are designed for easy access, but tight enough to keep water bottles and nutrition bars inside safely. Pockets are reinforced for long life. The hem is slightly elastic to hold the garment snug to hips to keep it in place and prevent flapping in the wind. The neckline has a sublimated, tagless label that eliminates skin abrasions and irritation from inside the garment. Frontal full length zipper with an Aero Tech Designs pull tab is standard on all Peloton Jerseys.
It can be easily customized with sublimation or screen printing and provides vivid color and texture.
3M Reflective tab on the middle pocket adds value for visibility in low light conditions. 3M reflective is known worldwide as best in class and will aid in visibility.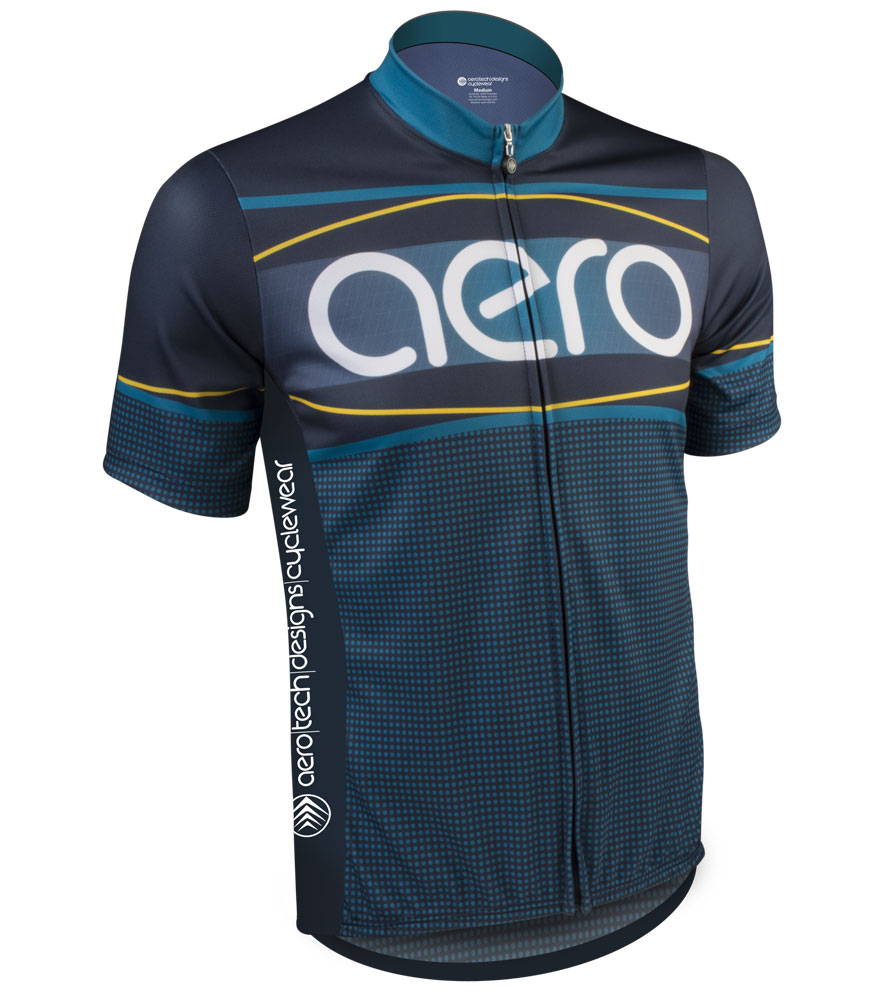 Fit is Roomy and Relaxed
AeroDri™ Tech Fabric
Sizes XS-5XL
Tall Sizes Available
Women's Tailor Cut Available
Three Back Pockets
Made in the USA - Factory Direct
Full Length Zipper
Three Rear Pockets
Printable in full color and full coverage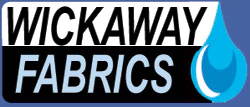 Fabric Information: AeroDri™
AeroDri™ is a wearable tech fabric that manages moisture away from the skin and through the clothing for evaporation. Moisture management is one of the key performance criteria in today's apparel. Moisture management is the process of transporting moisture away from the skin to the garments outer surface Moisture management often refers to the transport of both moisture vapor & liquid away from the body. Wetting and then Wicking is the nature of a technically designed fabric. In the heat summer and athletics, trapped sweat can heat up the body and lead to fatigue or diminished performance. When wearing a garment manufactured with AeroDri™ , the moisture vapor can pass through openings between filters of yarns. The polyester fibers are extruded in an angular shape and then knitted into a highly technical two stage fabric surface. The technical composition of fiber, fiber shape and knitting process all support the maintenance of body temperature.
When the body temperature heats up, sweat is produced. With a cotton garment, the sweat leads to "wetness" and increases clothing weight - especially in sweat prone areas like the neckline and arm pits. This wet is perceived as uncomfortable and with a negative effect on performance. Moistue management with AeroDri™ leads to temperature control and enhanced comfort. Keeping cool with technical performance fabric means moisture management. Temperature control can be achieved by evaporation of water on the skin's surface.
The wicking of moisture gives wearer a dry feeling by spreading the liquid to evaporate easily. Hydrophilic fibers like cotton are attracted to and bind with water, meaning the moisture is retained with poor moisture release. Hydrophobic fibers are synthetic like polyester or nylon. These fibers do not hold moisture and depending on their shape, their surface area and their small gaps in construction, the surface has few bonding sites for water to bind. This means the fabric stays dry and has good moisture transportation and evaporation (wicking). MicroFibers are key to the construction of AeroDri™ fabrics because of the fine fiber size and the knitted construction which contains small gaps and big surface areas for evaporation of moisture.
Content: 100% Polyester Microfiber
Weight: 190 Gram/yd
Crafted with pride in the USA! Factory Direct Price and Value!
---
Three ways to Customize this Sprint Cycling Jersey:
Use our Full Custom Design Services - Endless possibilities of color, text, logos, and design elements on your back.
If you have advanced graphic skills, you can download the Aero Tech Designs Template - Sprint Jersey. so you can start designing using Adobe Illustrator. Choose from a selection of pre-made templates in our Semi Custom Design tool!
Try your hand at designing your own sprint cycling jersey on our Design tool! Check it out Below and Experiment!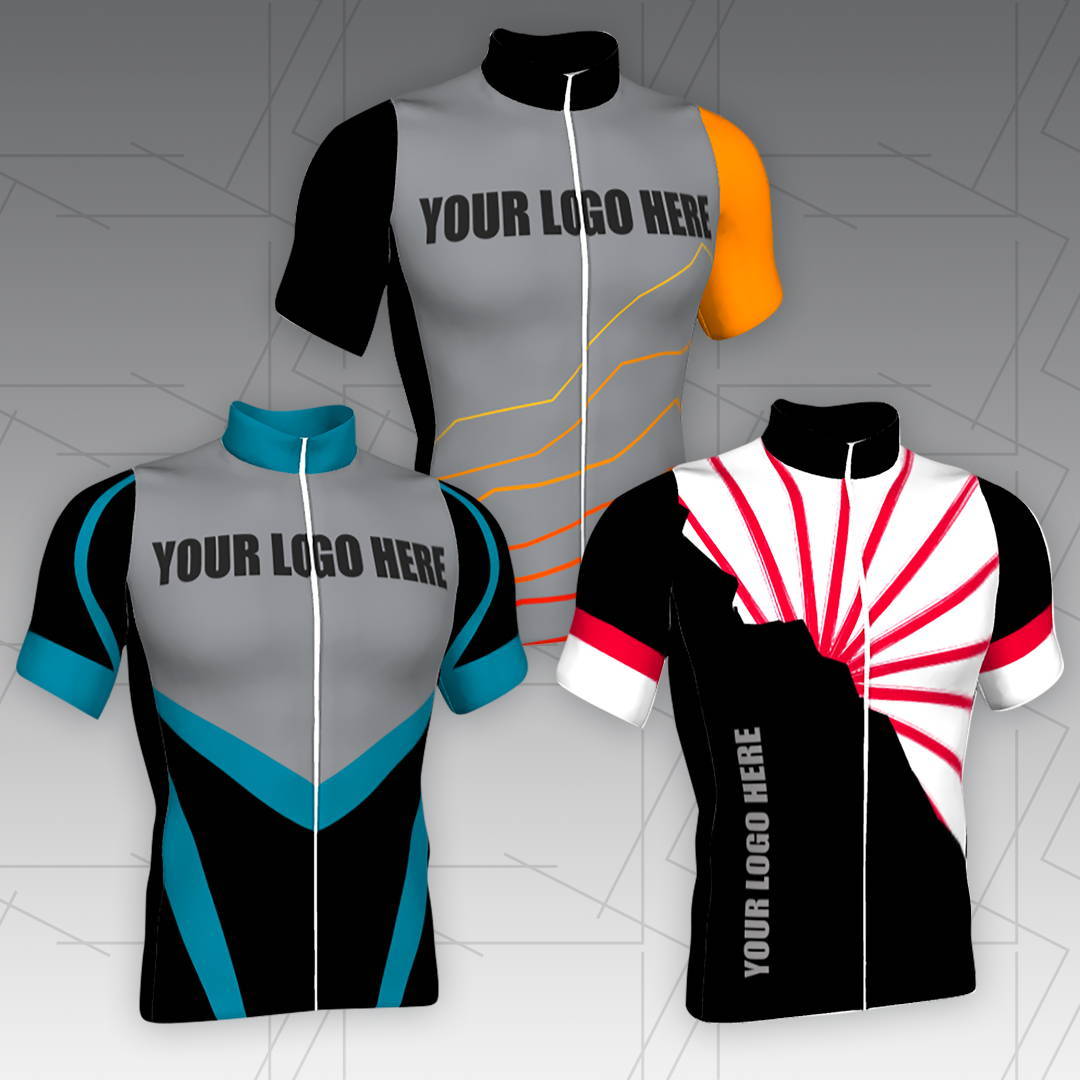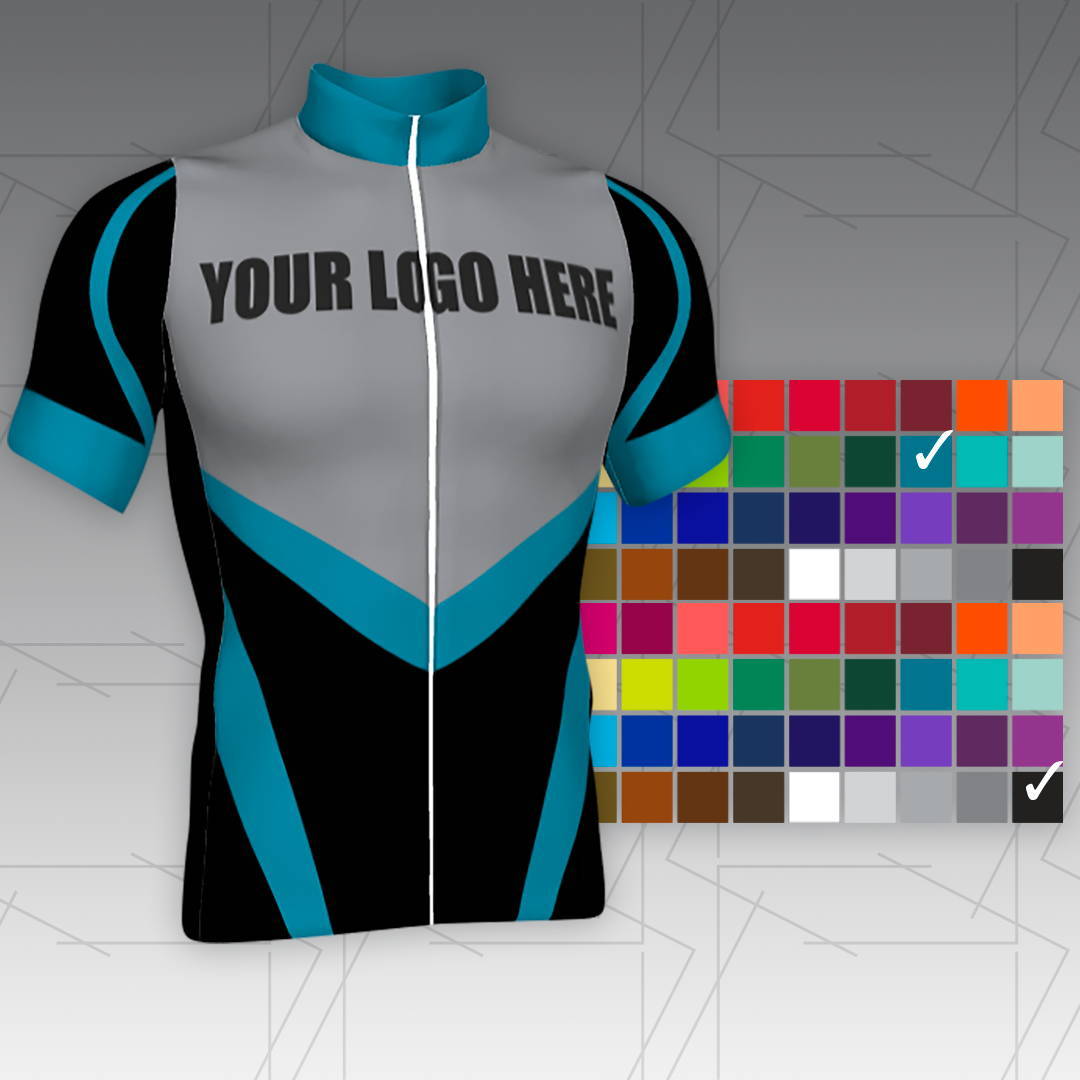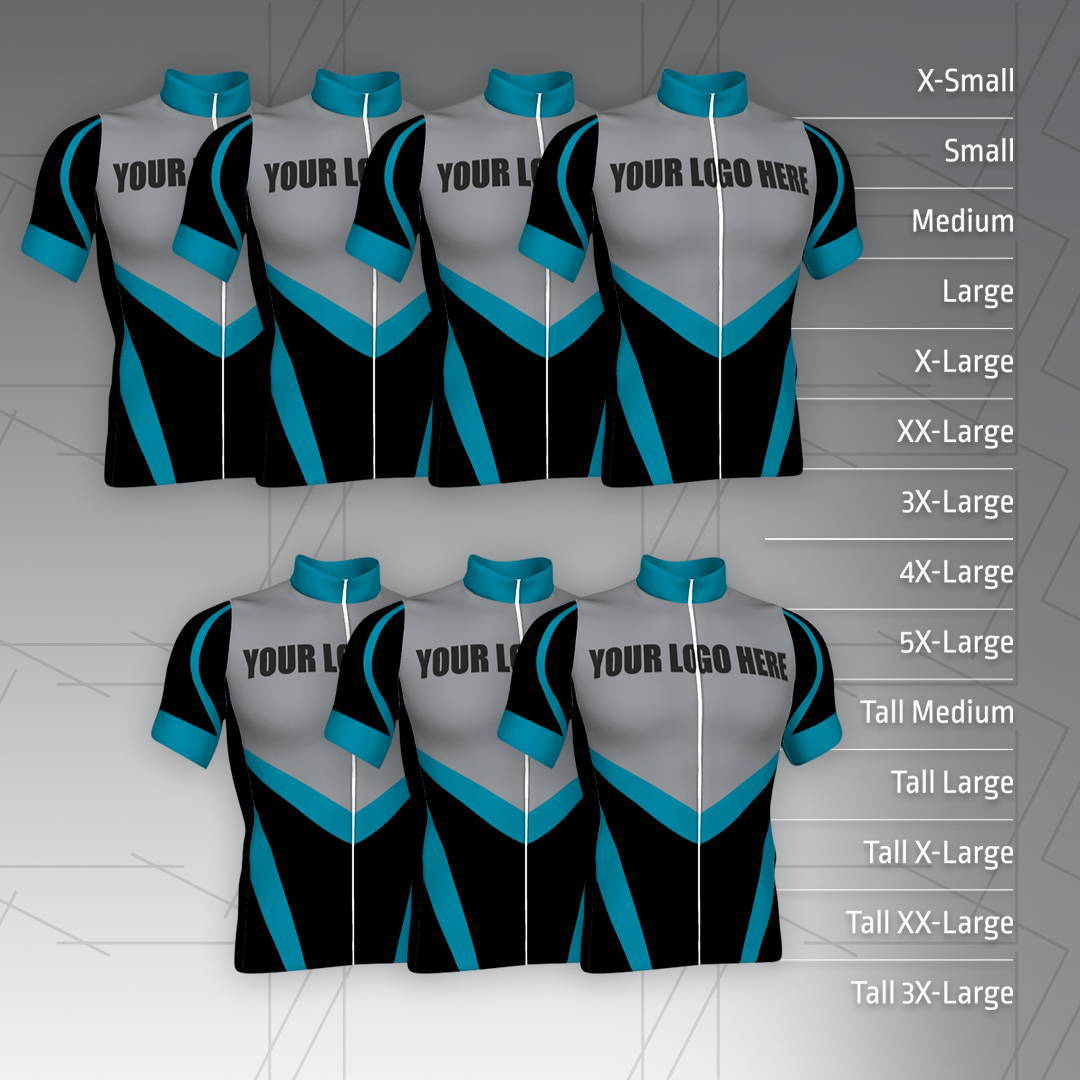 Start your design process HERE. Pick from Semi Custom or Color Custom, Tops or Bottoms, then Choose a Design, Change the Colors, Add Your Logos, then Send in your Sizing. A customer service representative will send you information on how to get your jersey in 2-4 weeks!
---
---
---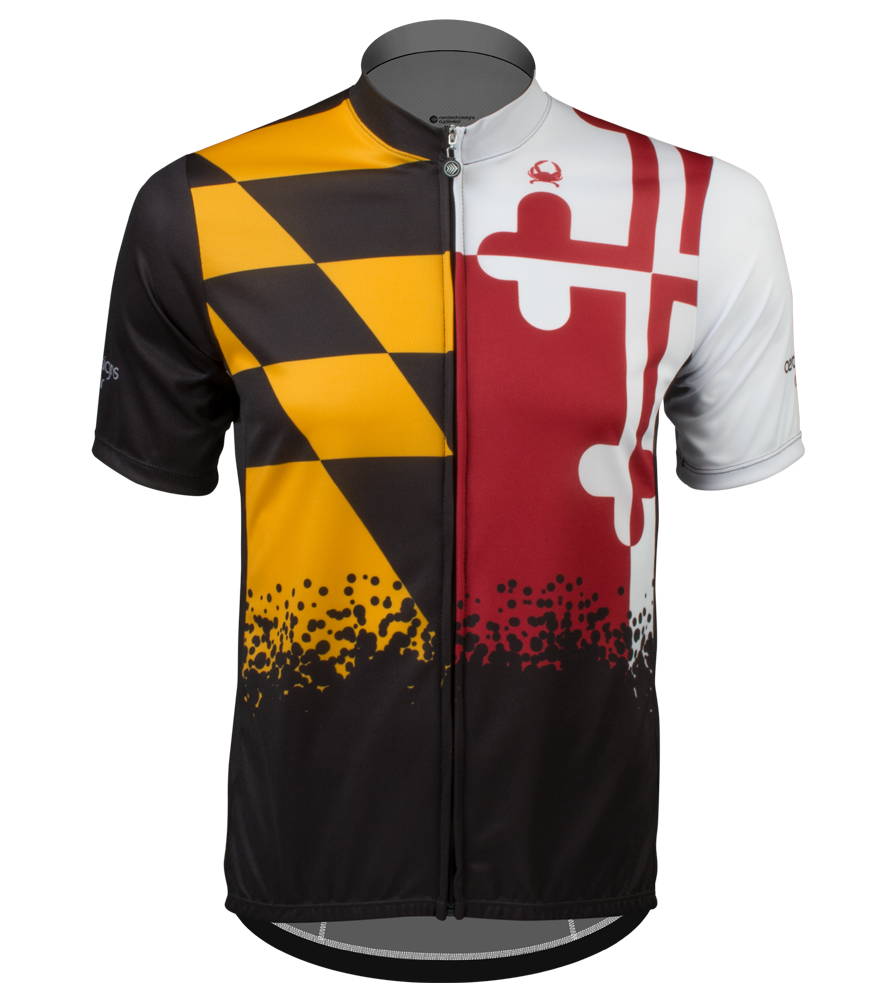 Vivid Color! Aero Tech Designs can create amazing designs for your team!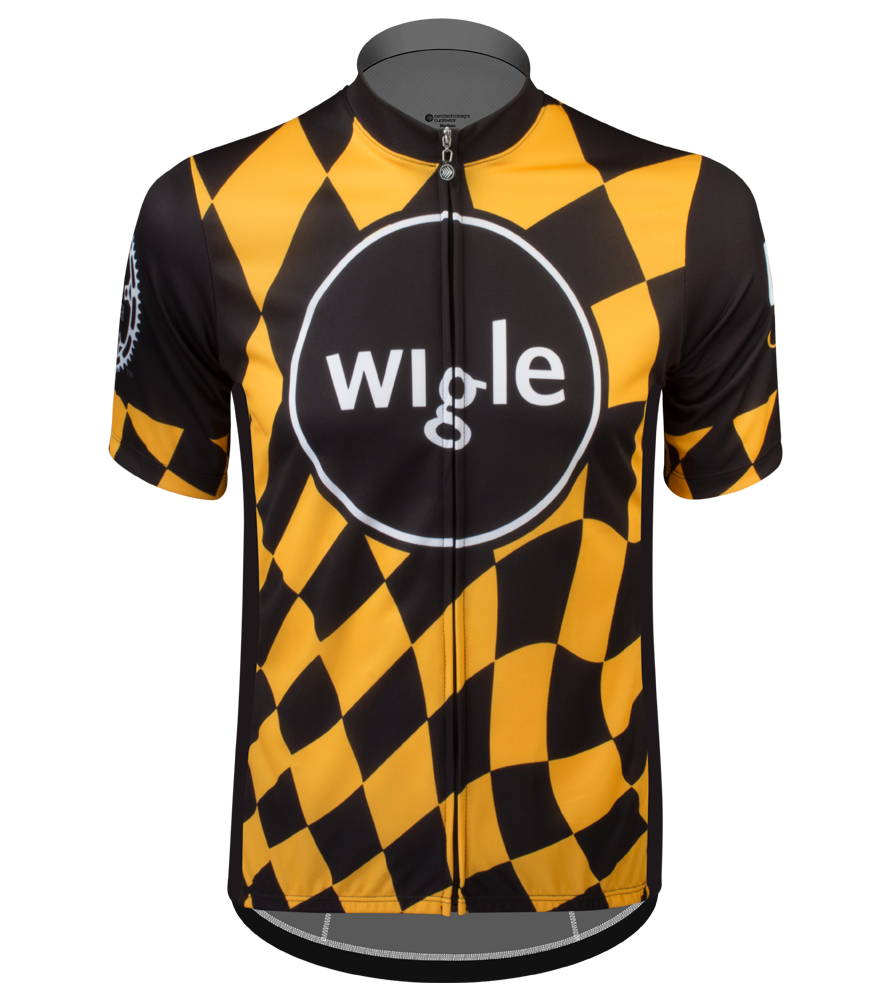 Great fit, standard full zipper, generous sleeve length, high quality fabrics, tall and big sizes, and more!
Endless possibilities of color, text, logos, and design elements on your back.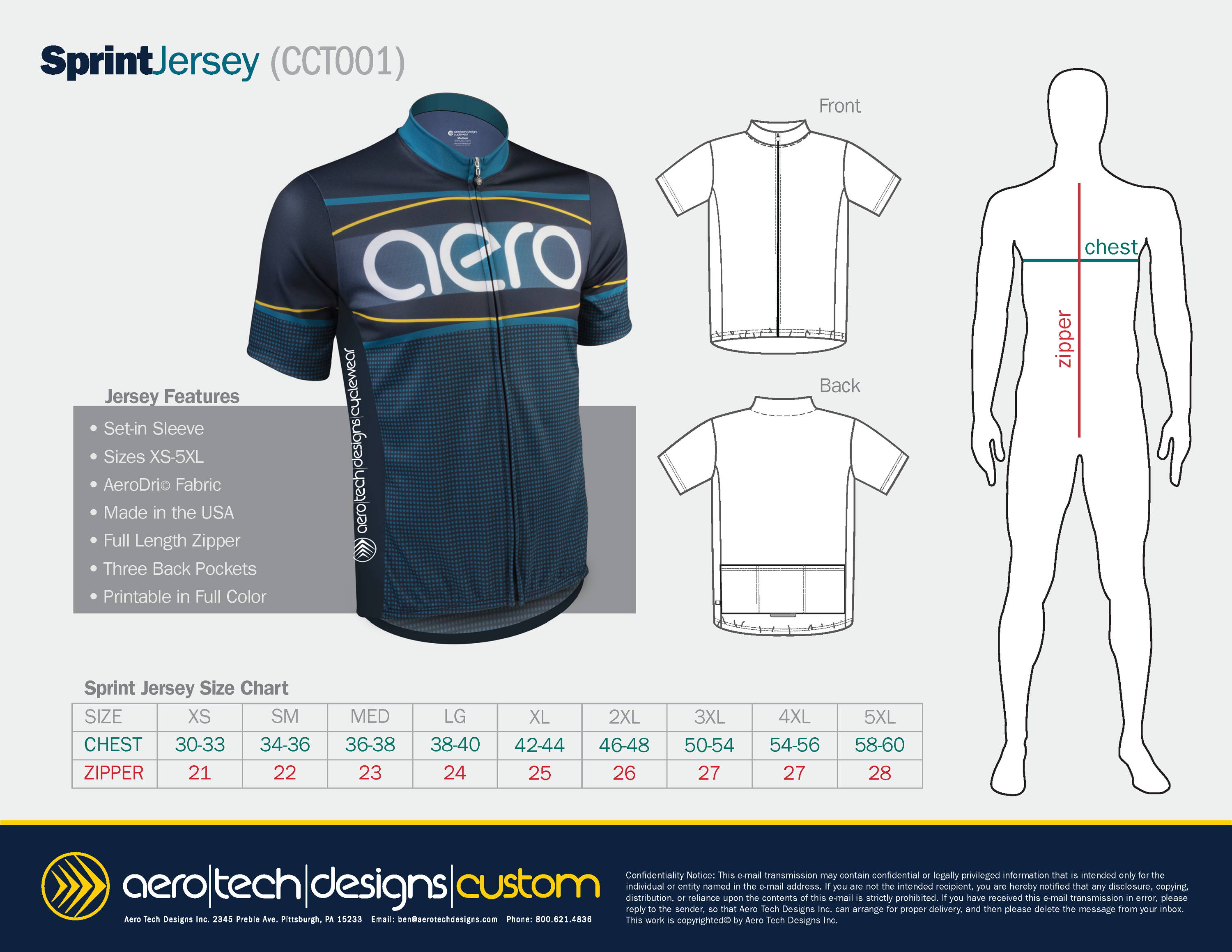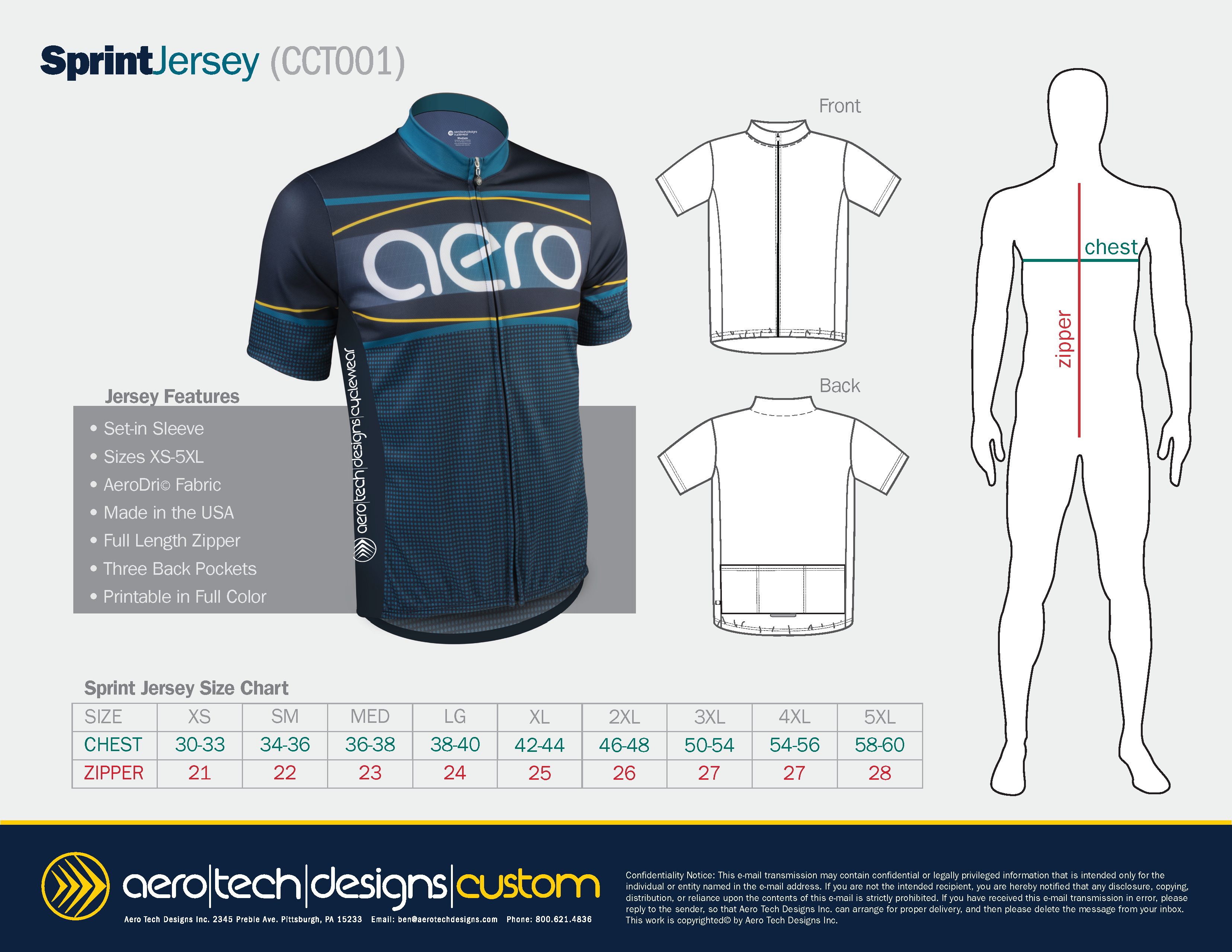 Additional Details
SKU:

CCT001