Description
Aero Tech Women's Lady Rider Empress Cycling Jersey in Light Blue

Aero Tech Designs introduces the Women's Lady Rider Cycling Jersey.
Made with our Women's Empress Cycling Jersey pattern, which is the one fit that everyone likes.
When we developed the women's Empress fit, we had to take everyone's opinion into consideration, and women are really picky and vocal about how their cycling jersey should fit. We took all this input from the skinny girls who wear X-Small and the regular girls, and the plus size women with all their fit types, riding styles and personal preferences to create the Empress Women's Specific fit.
It is not skin tight so, if that is what you need, go a size smaller. this jersey is designed specifically for women with short sleeves and relaxed waist so the jersey sits better on the hips. The hem has a light elastic to keep the garment from flapping in the wind while riding. It is longer length than some cycling jerseys because that is what the girls asked for. The front has a full length zipper so you can easily wear it over bib-shorts or base layers.
The back has three easy reach pockets that are slightly elasticized at the top. Each back pocket can carry a heavy load including extra water bottles, your windbreaker, snacks and whatever else is needed in easy reach.
The fabric is our textured AeroDri Fabric that keeps your body temperature comfortable throughout the entirely of your bicycle ride.
AeroDri™ is a highly technical fabric that helps to manage moisture by wicking sweat away from the skin. The fabric has key performance metrics for that keep skin dry for an active lifestyle. The fabric sweats well, without wet marks in high perspiration areas. The material manages your moisture to keep you dry and comfortable. As you exercise, excessive moisture on your neckline and armpits can become heavy and uncomfortable if you wear a cotton t-shirt, which can lead to fatigue or diminished performance. When wearing a garment manufactured with AeroDri™ , the moisture vapor can pass through openings between filters of yarns. The polyester fibers are extruded in an angular shape and then knitted into a highly technical two stage fabric surface. The technical composition of fiber, fiber shape and knitting process all support the maintenance of body temperature.
When the body temperature heats up, sweat is produced. With a cotton garment, the sweat leads to "wetness" and increases clothing weight - especially in sweat prone areas like the neckline and arm pits. This wet is perceived as uncomfortable and with a negative effect on performance. Moistue management with AeroDri™ leads to temperature control and enhanced comfort. Keeping cool with technical performance fabric means moisture management. Temperature control can be achieved by evaporation of water on the skin's surface.
AeroDri is Hydrophilic fibers like that are 100% polyester which are extruded in a shape that is attracted to and transports water, meaning the moisture is pulled to the surface for evaporation release. Hydrophobic fibers are synthetic like polyester or nylon. These fibers do not hold moisture and depending on their shape, their surface area and their small gaps in construction, the surface has few bonding sites for water to bind. This means the fabric stays dry and has good moisture transportation and evaporation (wicking). Micro-Fibers are key to the construction of AeroDri™ fabrics because of the fine fiber size and the knitted construction contains small gaps and big surface areas for evaporation. Content: 100% Polyester Microfiber Weight: 190 Gram/yd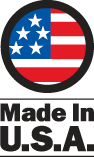 Features:
*Full-length Separating YKK Zipper
* Snug Bottom Hem with light elastic
* Three Easy-to-Reach Back Pockets
* 100% AeroDri Polyester Fabric
* 3M Scotchlite Reflective Element on back
* Brilliant Sublimated Color will never fade
Aero Tech Women's Jersey- Size Chart
Size
Women's Size
Bust
Waist (Estimate inches)
Hip (inches)
X-Small
2
32
24
35
Small
4-6
33 - 34
25 - 26
36 - 37
Medium
8-10
35 - 37
27 - 28
38 - 39
Large
12
38 - 39
29 - 30
40 - 41
X-Large
14-16
40 - 41
31 - 32
42 - 43
XX-Large
18-20
43 - 45
36 - 38
47 - 49
3XL
22-24
47 - 49
40 - 42
51 - 53
4XL
26-28
51 - 53
44 - 46
55 - 57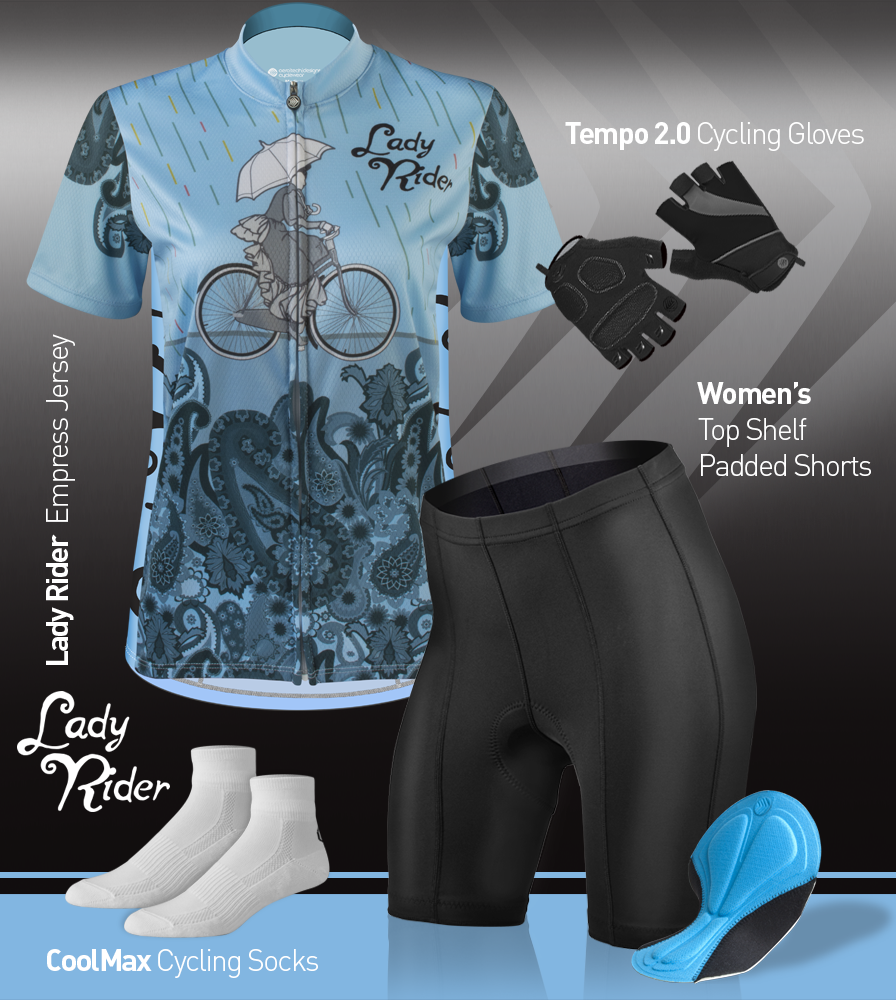 Aero Tech Women's Lady Rider Empress Cycling Jersey in Light Blue

Additional Details
SKU:

CCT004LR

Gender:

Womens