Description
Aero Tech Men's Peloton Shorts - Tuxedo Black Bicycle Pinstripe - PADDED - USA Made Cycling Shorts
A classic design in our Peleton Cycling Shorts, which have may features for longer cycling comfort. The pad is a mid weight for everyday rides. The legs have a longer inseam with an Italian power band that is light and easy to wear. The leg elastic band keeps the shorts in place so they will not ride up and you will not have to pick at them as they stay in place to keep the chamois pad taunt and snug to the skin. The waist is a 1 inch elastic that is on the higher side of waist heights, so that it says in place. The fabric has all way stretch and is cut cross grain for the maximum compression needed to stimulate muscles during exercise. The compression helps massage the lactic acid out of muscles and back to the heart for metabolism. The legs also have a 3M Scotchlite reflective tab, keenly placed on moving parts for maximum visibility if you get stuck out in low light conditions. 3M is the best in class for reflective luminosity and effectiveness. The bicycle short has our top shelf chamois pad which is a mid weight pad, not too thick and ideal for everyday cycling. The graphic printed on these bicycle pinstripe bike shorts is black with a silver graphic bicycle from the front view.
Features of Men's Bicycle Pinstripe Cycling Short:
Peleton Tuxedo Black Bicycle Pinstripe Bike Shorts have a stretchy, superior fit with rugged durability for long bike rides
Chamois padding is smooth with a Coolmax antibacterial microfiber surface
Poly/Lycra Italian face fabric on the printed panel parts hold bright brilliant graphics
The Top Shelf Chamois padding is smooth antibacterial microfiber stretch fleece
The padded pinstripe bicycle shorts are made with high quality tricot knit material that has a with six-way stretch
The high spandex content supports the needed compression for cycling fitness
The fabric is high quality to resist abrasion with 77% Nylon 23% Spandex,
Fabric is all way stretch, 8.2 oz. tricot construction
Legs have a silicone gripper elastic that has a three step zig zag hem - very soft and comfortable
Flatlocked seams are stretchy and smooth for next to skin softness
Wider Waist elastic is soft, 1 inch with a non roll feature that is coverstitched
Italian Leg bands with silicone prevent shorts from riding up
Smooth, seamless inner leg reduces opportunity for abrasion and sores
3M Reflective Tabs for light refraction back to it's source
Unconditionally guaranteed | Tested - proven performance
Machine wash, air dry for longest life of the short
Made in the USA - Factory Direct Value

Aero Tech Tuxedo Black Bicycle Pinstripe Cycling Shorts - Made in the USA
Men's Peloton Short - Size Chart
Size
Waist (inches)
Inseam (inches)
X-Small
24-26
8
Small
28-30
8 1/2
Medium
32-34
8 3/4
Large
36-38
9 1/4
X-Large
38-40
9 1/2
XX-Large
42-44
9 1/2
3XL
46-48
9 1/2
Ride Longer with our Highly Engineered
ergonomic Top Shelf Chamois pad!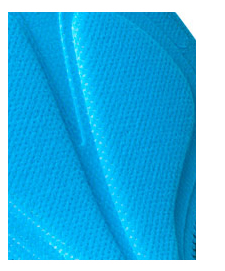 Top Shelf pad is an anatomically designed pad for the bike riding position. The Multi-Level Pad M.L.P uses multi-level production technology and Multiple Layered Foams to improve comfort by relieving the pressure points between the body and the bicycle saddle.
The keenly designed shape eliminates chafing and smooths out the crotch area for maximum comfort on long bicycle rides.
What makes this pad special? It is the fantastic fit that comes from a highly engineered design. Think about all the curves we have in our crotch area. To fit all these big curves we have between our legs and around the body's torso, we cannot do it effectively with a single piece of fabric. That is why this anti-chafe chamois pad fits with excellent nice and tight to the skin. It has 4 pieces that are engineered to fits all the curves that we have. The side wings on this pad offer up excellent fit around your legs and torso. This excellent fit is not available with one piece pads. The surface of the chamois is antibacterial which is important to prevent the growth of bacterial which lead to saddle sores for long distance cyclists.
The Shorts are part of our Bride and Groom Kit
Complete the Tuxedo Black Bicycle Pinstripe Kit:
Not only does the kit look great with the Empress Bride Jersey, but it also goes great with our CoolMAX Cycling Socks, Tempo Padded Cycling Gloves, and Solid Color Rush Cycling Cap.