Description
Aero Tech BIG Men's Sprint Cycling Jersey - Team Clydesdale
Take Charge and Lead The Way!
Aero Tech Designs is proud to introduce the Team Clydesdale Big Man's Jersey. The Team Clydesdale jersey is for big guys who want something that fits and has a great style. This jersey is only available for sizes XX-Large to 5X-Large. The Blue and Green color options for the Team Clydesdale jersey are printed on our AeroDri™ Tech Fabric which is prepared for printing for vivid, long-lasting color. The Team Clydesdale Jersey has a Full Separating YKK Zipper, Three Rear Cargo Pockets, and a 3M Reflective Tab for safety in low light situations, all assembled in our USA Factory. We then sell the product directly to you, cutting out the middle man so you get a better value product for less!
Features:
AeroDri™ Tech Fabric

Content: 100% Polyester
Weight: 190 Gram/yd
Prepared for Printing for Vivid, Long-Lasting Color

Full Length separating Zipper
3 Back Pockets
Sleek Design Lines are slenderizing
3M Reflective Tab below Pockets
Generous Tailored Fit for big men and belly
Elastic hem prevents the Flap in the Wind
Color Options: Blue and Green
Factory Direct Value - No Middleman Mark-up
Made in USA by Aero Tech Designs
Big Sizes 2XL - 5XL
Specificatios:
Manufacturer: Aero Tech Designs
Fabric: 100% AeroDri Polyester
Country of Origin: USA
Aero Tech Designs Big Man Jersey - Size Chart
Size
Chest (inches)
2XL
42-46
3XL
48-52
4XL
54-56
5XL
58-60
Photos
Fabric Information:
AeroDri™ is a technical polyester yarn blend that is knitted to manage moisture by wicking sweat away from the skin. The material's yarns have a performance metric ideal for an active lifestyle. The fabric is technically designed to sweat well, without wet perspiration marks in and around the armpit and neck areas. The material manages your moisture to keep you dry and comfortable. As you exercise, excessive moisture on your neckline and armpits can become heavy and uncomfortable if you wear a cotton t-shirt, which can lead to fatigue or diminished performance. When wearing a garment manufactured with AeroDri™ , the moisture vapor can pass through openings between filters of yarns. The polyester fibers are extruded in an angular shape and then knitted into a highly technical two stage fabric surface. The technical composition of fiber, fiber shape and knitting process all support the maintenance of body temperature.
When the body temperature heats up, sweat is produced. With a cotton garment, the sweat leads to "wetness" and increases clothing weight - especially in sweat prone areas like the neckline and arm pits. This wet is perceived as uncomfortable and with a negative effect on performance. Moisture management with AeroDri™ leads to temperature control and enhanced comfort. Keeping cool with technical performance fabric means moisture management. Temperature control can be achieved by evaporation of water on the skin's surface.
AeroDri polyester is a Hydrophilic fiber that visually looks like cotton (for softness). The material fibers are attracted to and bind with water, meaning the moisture is retained to be wicked to the surface away from the skin. Hydrophobic fibers are synthetic like polyester or nylon. These fibers do not hold moisture and depending on their shape, their surface area and their small gaps in construction, the surface has few bonding sites for water to bind. This means the fabric stays dry and has good moisture transportation and evaporation (wicking). Micro-Fibers are key to the construction of AeroDri™ fabrics because of the fine fiber size and the knitted construction which contains small gaps and big surface areas for evaporation of moisture.
Content: 100% Polyester Microfiber
Weight: 190 Gram/yd
Care: Machine wash warm, 40 °C (105 °F) Tumble dry low
Complete the Kit!
The Big Men's Team Clydesdale Jersey pairs perfectly with our Big Man's Clydesdale Shorts! Also Check out our Lightweight Cycling Gloves and our CoolMAX Made in the USA Socks for cycling comfort accessories.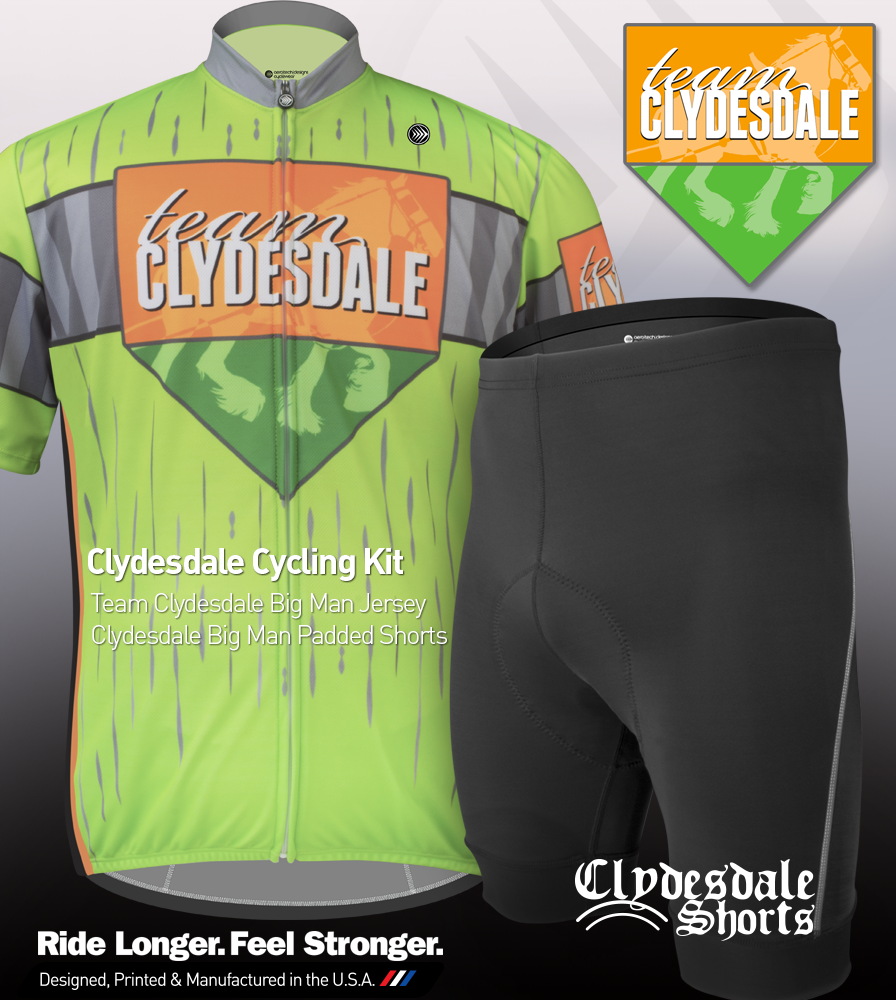 Fabric: 100% Polyester